---
Crispy Slow Cooker Carnitas (Mexican Pulled Pork) Con Ancho Chiles | Poblano Peppers smothered in so much flavour, you won't be able to put your forks down! Yes, I sound like an infomercial. After having tried different types of recipes, this is the most incredible Carnitas recipe we tried! Carnitas literally means 'little or small meats'. It's usually taken as a cute way of saying 'carne', which in Spanish is meat. So: cute little small meats, I guess is the translation. May sound odd in English, but to those of us native spanish speaking gente (people), it completely makes sense. And sounds delicious.
And in this recipe, I've included TWO methods to cooking this pulled pork! One is in a slow cooker, and the other is slow cooked in your OVEN!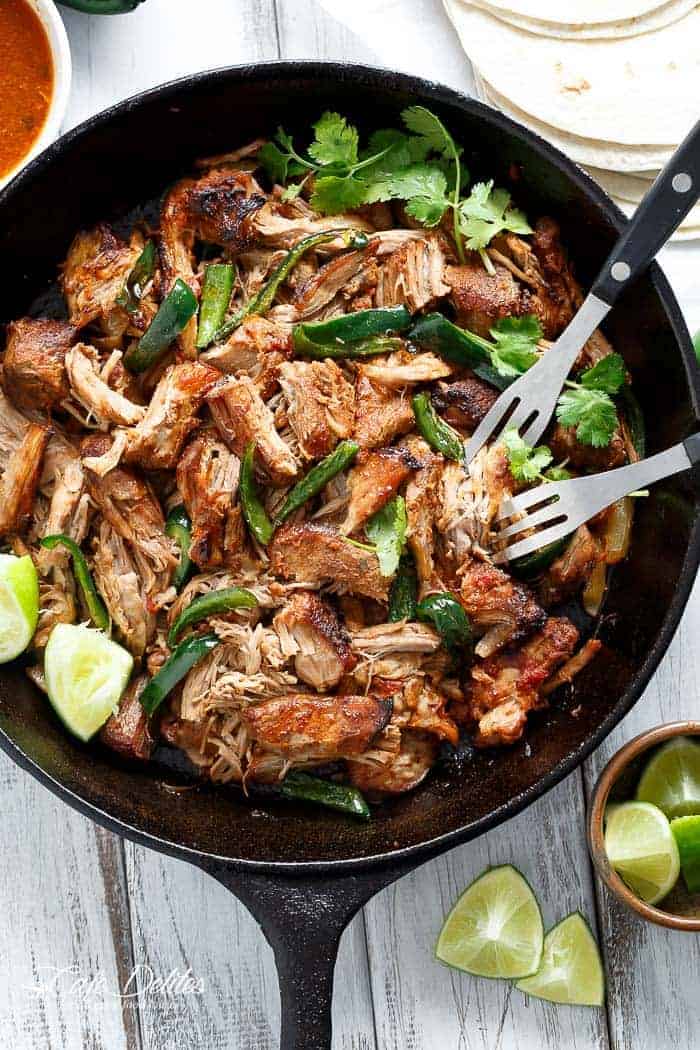 Now, although I'm not Mexican, (being half Colombian and half Uruguayan), the language we all speak is the same. We may have different dialect and few words have different meanings, but there's ONE thing that unites all latinos…besides music and dancing. And that one thing is food. Comida. Good in both languages.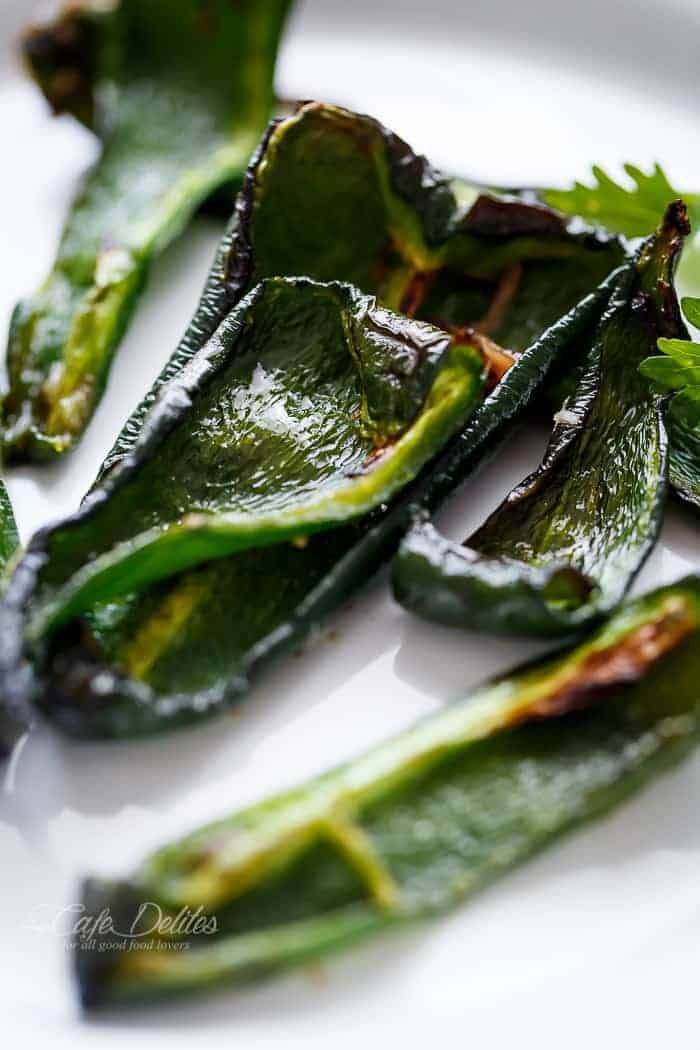 When I saw Poblano Peppers, known as Ancho Chiles in spanish (translated means wide chillies), I KNEW a Mexican-inspired recipe was coming. I felt it in my bones. Having tried authentic Carnitas at many food festivals here in Melbourne over the years, and over in L.A when travelling to my original home town, New York, the time came for me to attempt to make a lower fat, but just as delicious version, in my appliance lover — my slow cooker.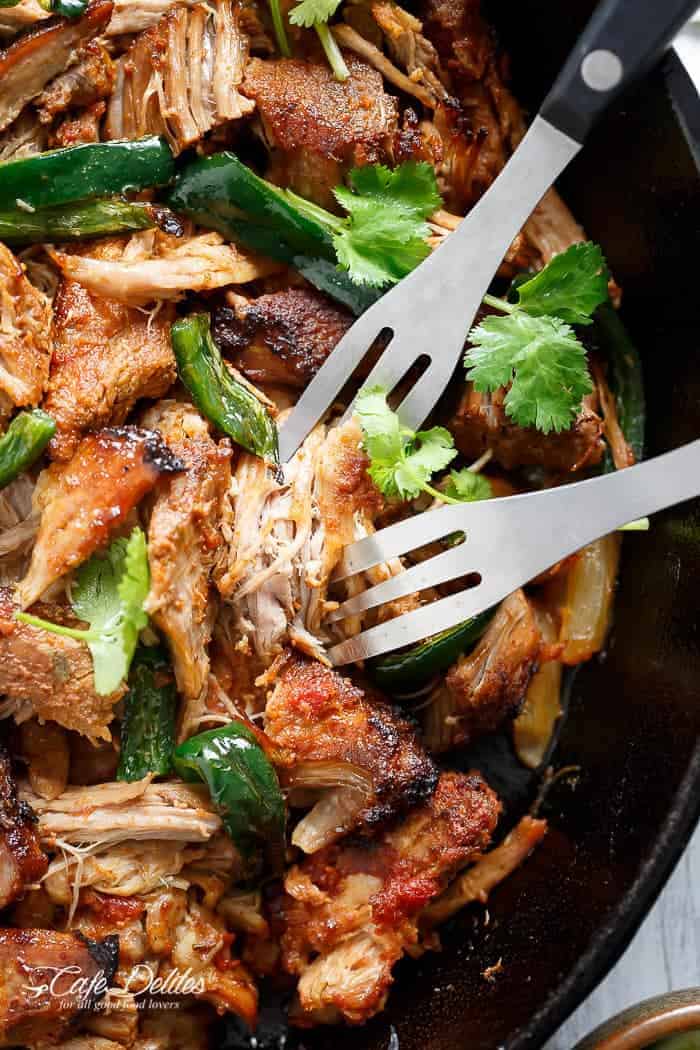 I say lower fat version, because most Carnitas are made in lard. They're crispy and tender, and worth every single calorie. BUT. Sometimes, you want the best of flavours without worrying about the new pair of jeans you just bought and fitting into them tommorow.
Searching through recipes, a lot of them call for orange juice mixed with lime juice. Well, we tried those recipes. Honestly, I have to say no. Not for us. Not to say others won't enjoy carnitas in orange juice. We just. Well, we couldn't do it. Not even the smell was enticing us while they were cooking. They just smelt, and tasted, wrong? You know when things just don't really go together?
Anyway, I threw all of those recipes out the window and settled for my own version, trusting myself to come up with something absolutely incredible rather than copying what everyone else is doing.
¡Oh diosito! The aroma sifting through my kitchen while these were cooking was mouthwatering! I kept peeking through the glass waiting, with my fingers tapping on the kitchen bench, for what I would find inside. And I wasn't disappointed in the least!
As with other slow cooker recipes, these are extremely easy to make. Simply rub the pork in Mexican inspired spices we love so much. Pour in crushed tomatoes.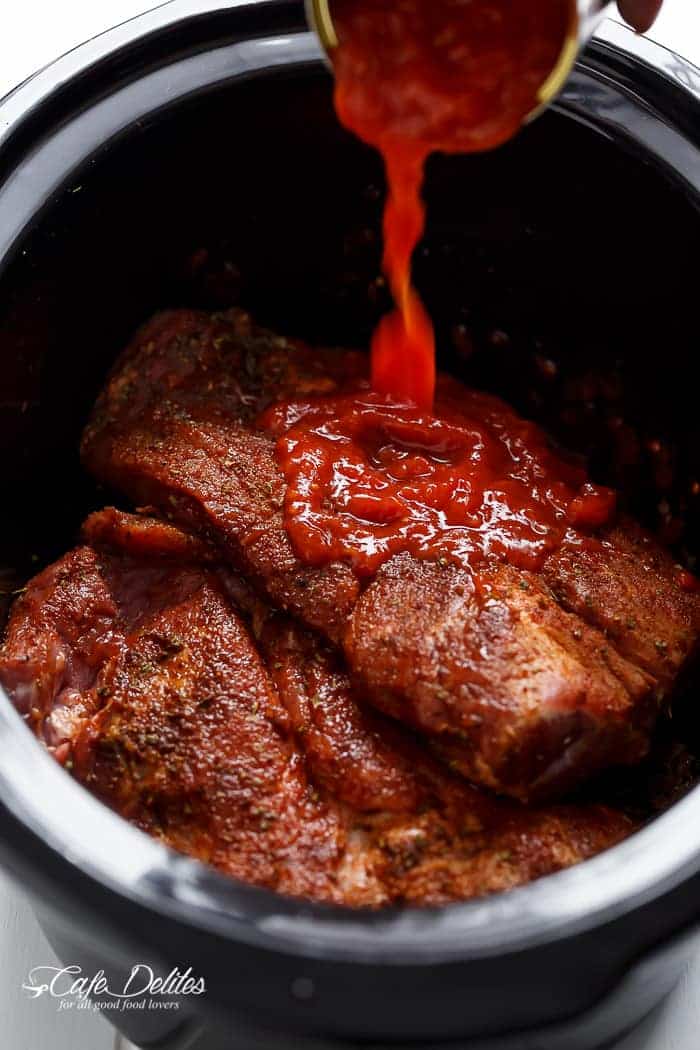 Add in sliced, fresh Jalapeños and garlic with chopped onion…..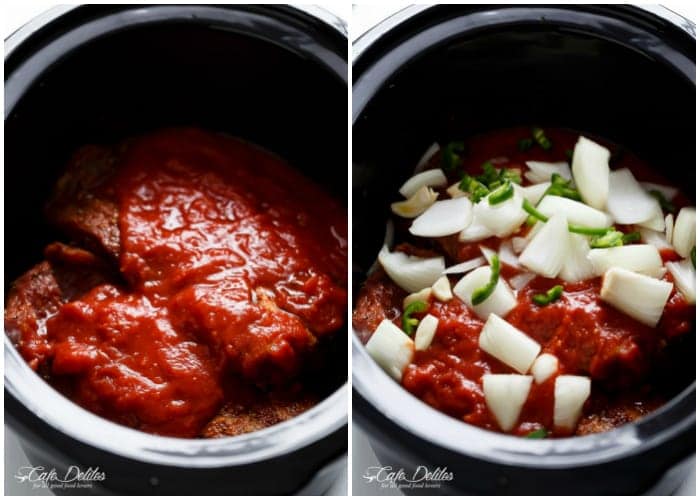 And rub it all together for the best marinade you may ever try on pork.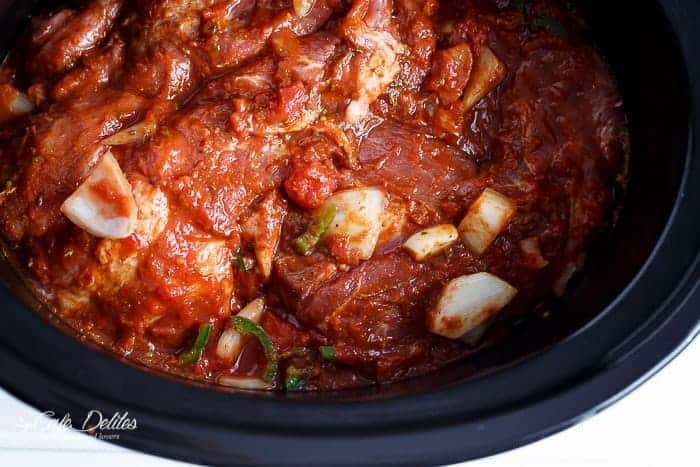 After 4 hours on high, or 7-8 hours on low setting, carefully lift the pork out of your cooker pot (I say carefully, because it melts through your spoons and falls apart so deliciously almost before hitting your skillet).
Pull it apart with your forks and you can either fry the Carnitas in a skillet OR place them on an oven tray and broil (or grill) under your oven broiler until they crisp up and became the best tasting Carnitas you've ever tried. And if you've never tried them? Well, now's your chance!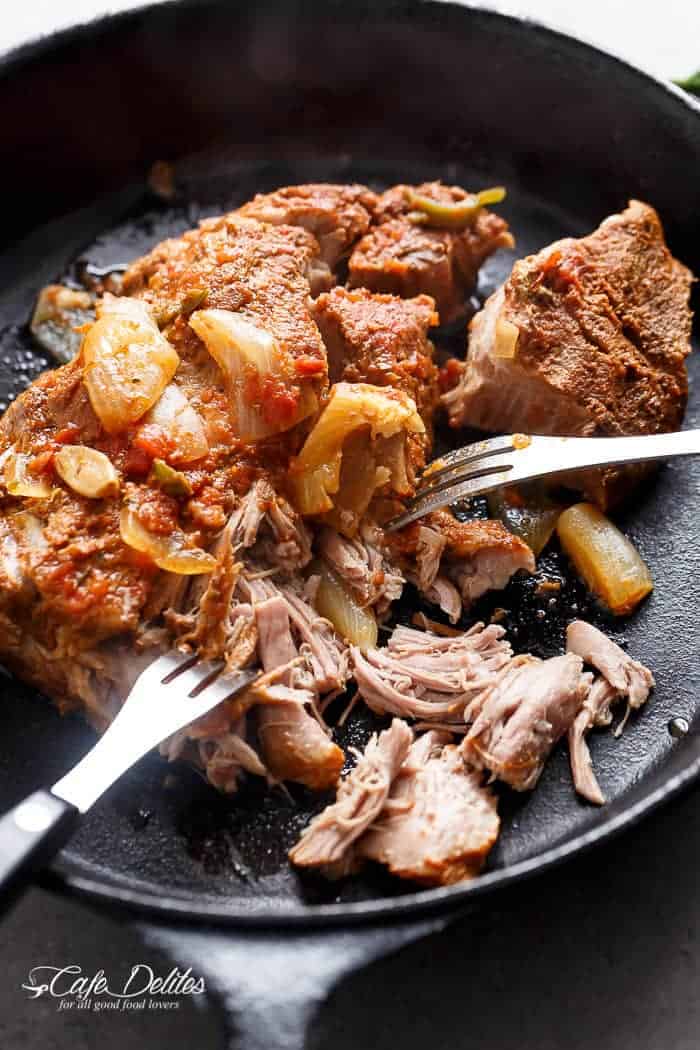 Steaming hot and super crispy!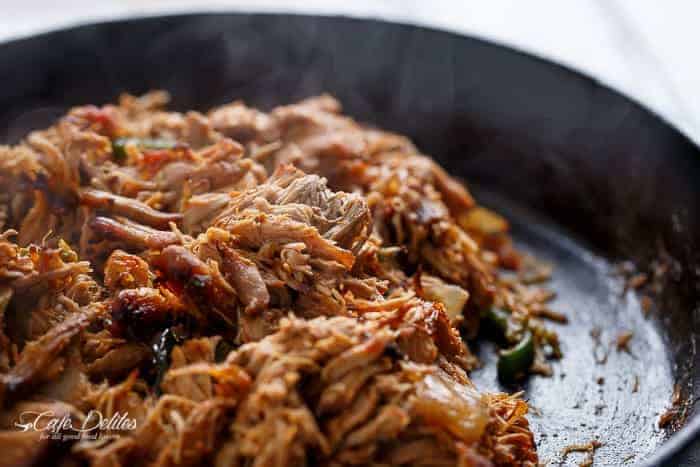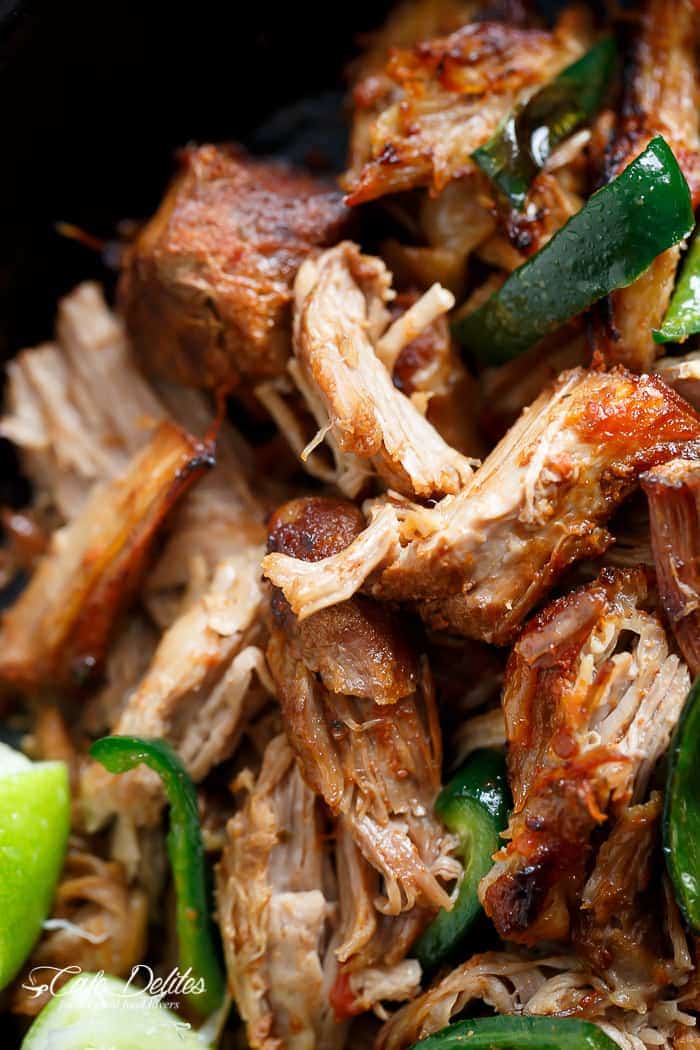 Pour over a little extra sauce from your slow cooker…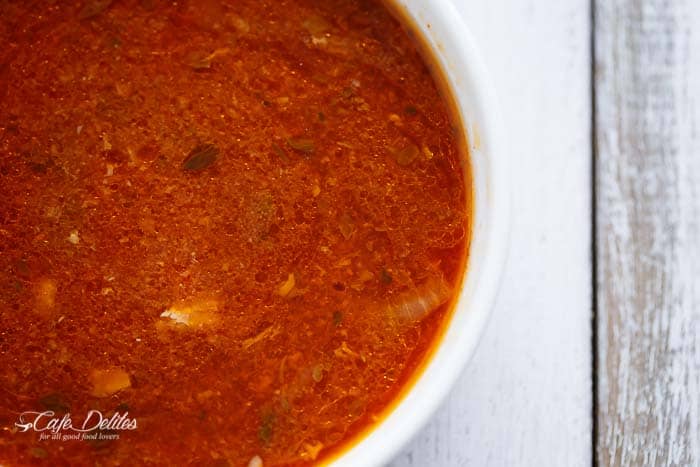 These can be served in tacos (one of the most popular way of eating them), or burritos. But! I'll be posting a lower carb version on Monday! Keep your eyes peeled for that!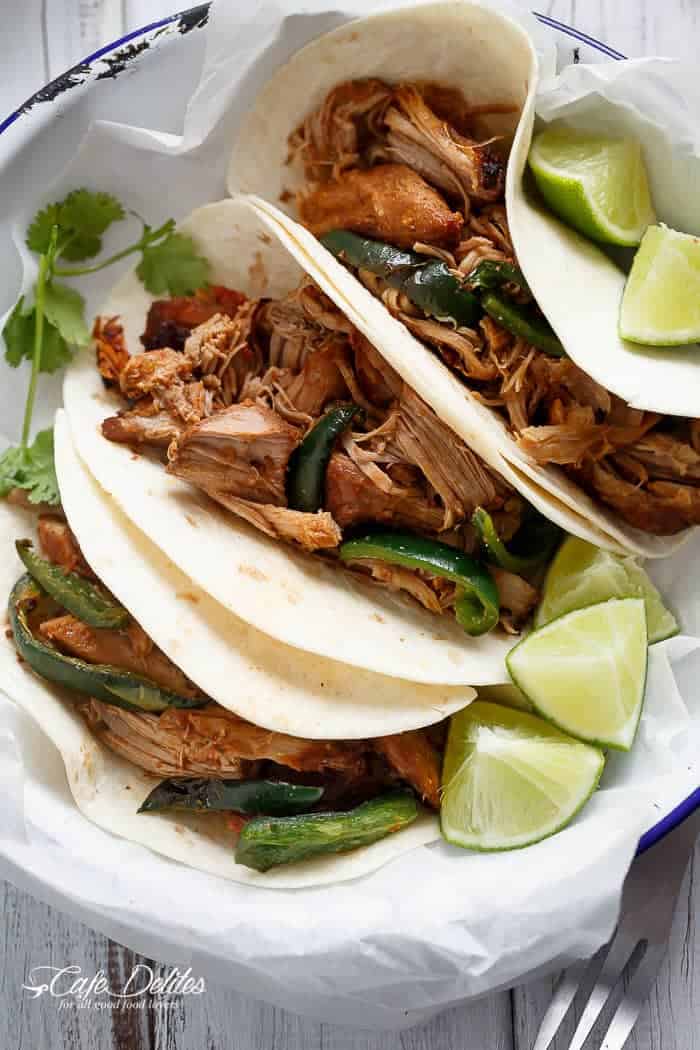 ---
In the meantime, I'll leave you with crispy, tender, falling apart pork smothered in so much flavour, you won't be able to put your forks down!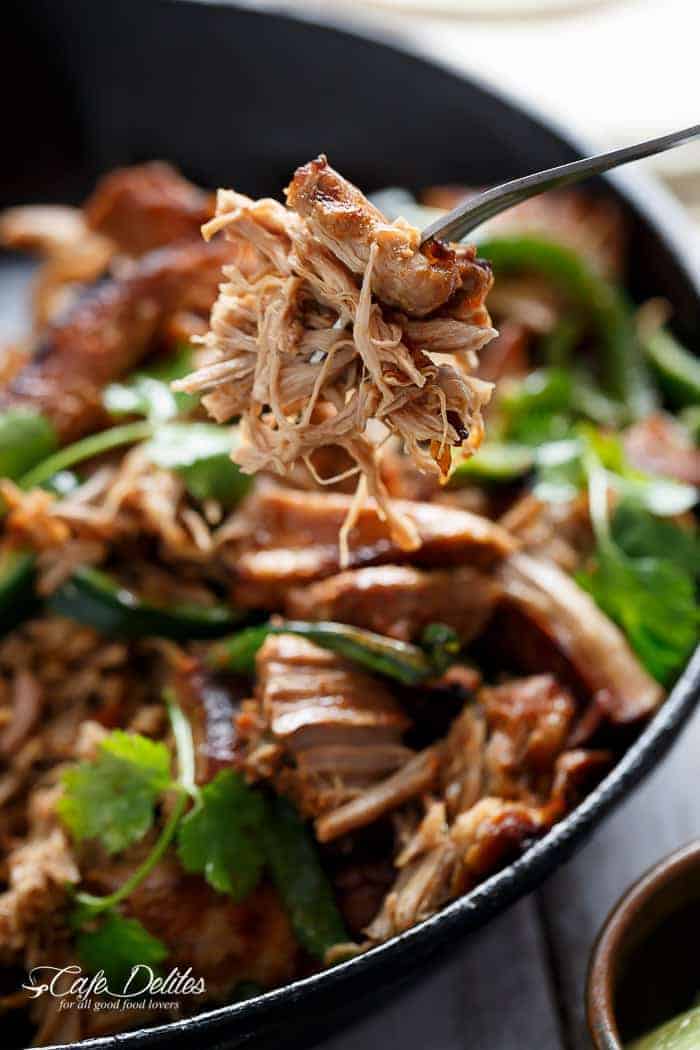 REMEMBER TO SUBSCRIBE TO CAFE DELITES NEWSLETTER FOR FREE AND RECEIVE FRESH RECIPE NOTIFICATIONS DELIVERED INTO YOUR INBOX!
If you try a recipe, please use the hashtag #cafedelites on INSTAGRAM for a chance to be featured!
FOLLOW CAFE DELITES ON FACEBOOK, INSTAGRAM, PINTEREST AND TWITTER FOR ALL OF THE LATEST CONTENT, RECIPES AND UPDATES.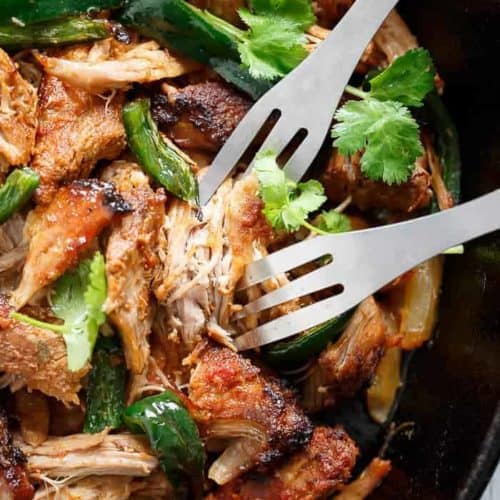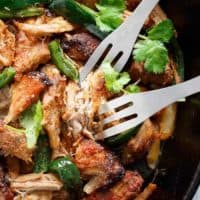 Crispy Slow Cooker Carnitas
Crispy, tender, falling apart pork smothered in so much flavour, you won't be able to put your forks down!
PRINT
SAVE
go to your favorites
Ingredients
4

pounds

(2 kg) boneless pork shoulder (pork butt), trimmed of any excess fat

1

tablespoon

olive oil

1

tablespoon

dried oregano

1

tablespoon

ground cumin

1

tablespoon

paprika

(sweet or smokey)

1 1/2 - 2

tablespoons

sea salt flakes OR 1 tablespoon table salt

(adjust to your tastes)

1

teaspoon

freshly ground black pepper

2

tablespoons

brown sugar

1

onion

, coarsely chopped

6

large cloves garlic

, sliced in half

1

jalapeno

, deseeded and ribs removed, chopped

1

x 14-ounce

(410g) can crushed tomatoes

Juice from 2 limes

(1/4 cup lime juice)

2

ancho chiles

(poblano peppers), deseeded, ribs removed and sliced
Instructions
Slow Cooker Method:
Rinse and dry the pork shoulder with paper towel. Place the pork in slow cooker bowl and add in the oil, oregano, cumin, paprika, salt, pepper and brown sugar on the pork. Rub seasoning all over pork; top with the onion, garlic, and jalapeno.

Add in the tomatoes and squeeze the lime juices over the pork. Mix everything together until well combined.

Cover and cook on low for 8 to 10 hours or on high 4 to 5 hours.

Once the meat is fork tender and falling apart, remove from slow cooker and allow to cool slightly before pulling apart with 2 forks.

Place the carnitas (shredded meat) onto a baking tray; drizzle with sauce from the slow cooker; add the ancho chiles (poblano peppers) and allow to grill/broil in a preheated oven on medium-high settings until golden and crispy. Alternatively, place shredded pork into a skillet and fry until crispy with the chile slices over medium-high heat.
Oven Method:
Preheat oven to 120°C | 250°F. Place an oven rack in the lower-middle part of your oven.

Coat pork in spices and sauces as above. Put the pork in a roasting pan and cover pan tightly with foil. Bake for about 6-8 hours, or until falling apart, basting it in it's own juices after three hours or so. Add in the ancho pepper strips during the last hour of roasting (if including).

Shred as above.