Bacon cheddar biscuits are savoury and buttery individual-sized quick breads. Perfect to serve alongside any meal!
Flakey biscuits hot from the oven are hard to resist especially when they're filled with bacon, cheddar, and green onions. This recipe takes a traditional biscuit recipe and adds a savoury, cheesy twist!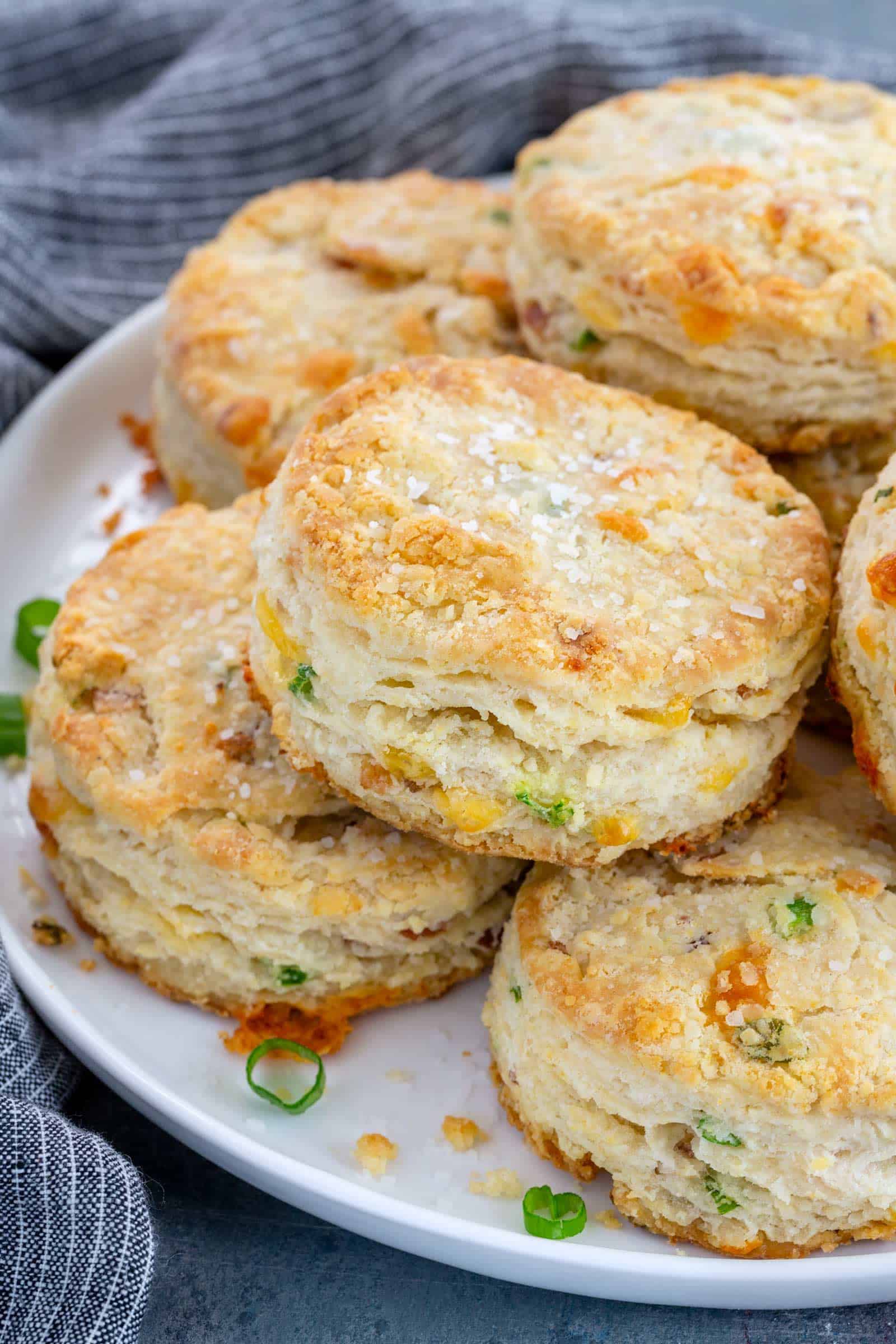 Bacon Cheddar Biscuits
Biscuits are a type of quick bread that uses baking powder and baking soda as leavening agents to make them rise immediately in a hot oven. These ingredients make getting supper ready a lot easier for home cooks.
No long waiting for fresh bread all-day. This biscuit recipe is for bacon lovers, which adds tons of smokey and savory flavors to each bite.
Hey there! I'm Jessica Gavin, a Certified Culinary Scientist and I unravel the science behind better cooking on my website JessicaGavin.com.
My tasty homemade biscuits recipe is a frequent request with my family and friends. I use a special technique to achieve a crunchy golden brown exterior with moist and flaky layers.
To take the flavor to the next level, I've added chopped pieces of oven-roasted bacon, grated aged sharp cheddar and sliced green onions to this recipe. These jumbo bacon cheddar biscuits could be a meal all in one handheld serving, or perfect for breakfast sandwiches the next day!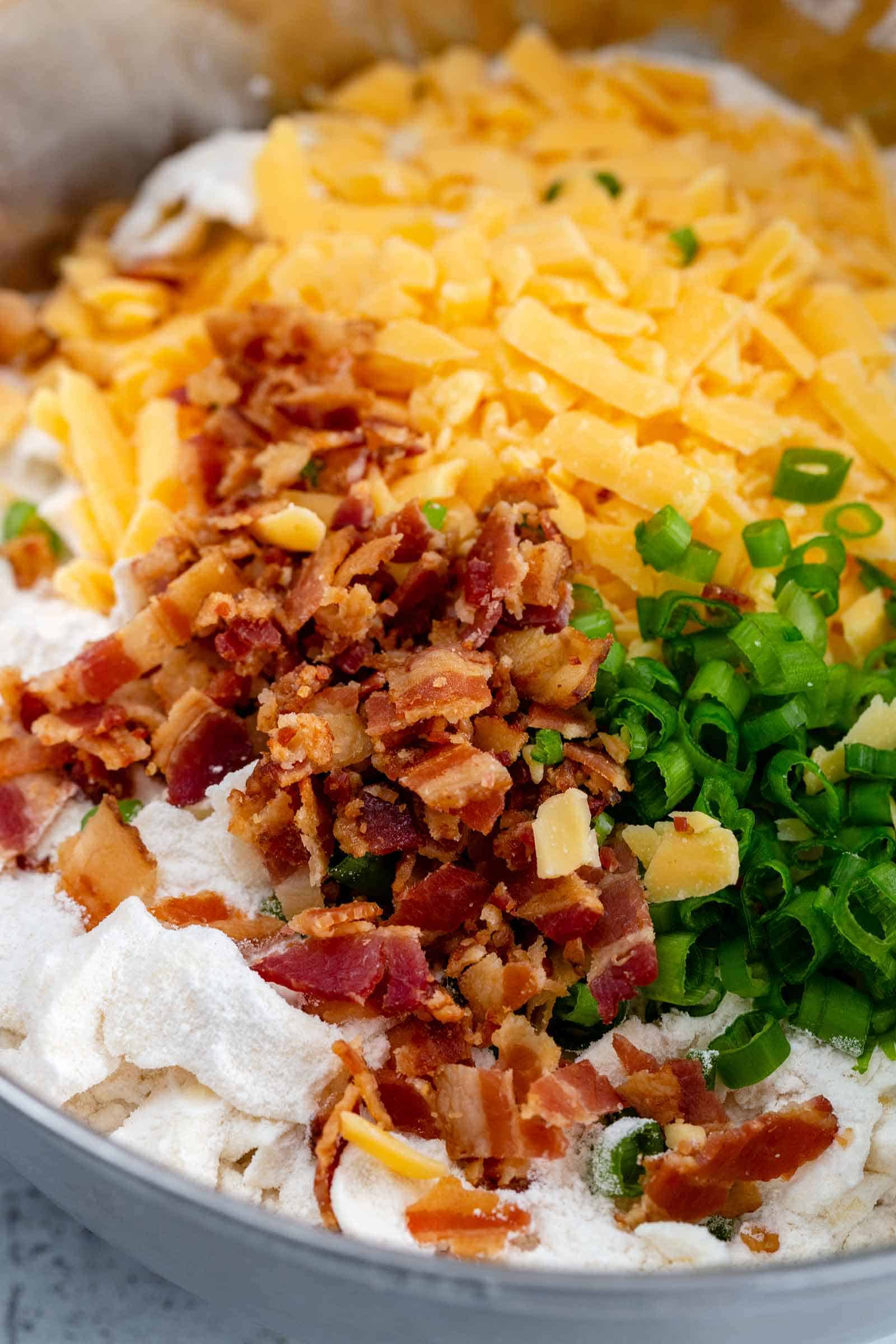 BISCUIT RECIPE
Bacon makes these biscuits irresistible. Cooking bacon in the oven is my preferred method. It allows you to get evenly browned and crispy pieces using a consistent temperature of 375 degrees.
It only takes about 15 to 20 minutes and if you roast a whole tray, you'll have extra slices to eat the next day.
If you're making a small batch and prefer to cook the slices on the stove top, cook over medium heat for 3 to 4 minutes per side, or until crispy. Chop them up and add it to the bacon cheddar biscuits mixture.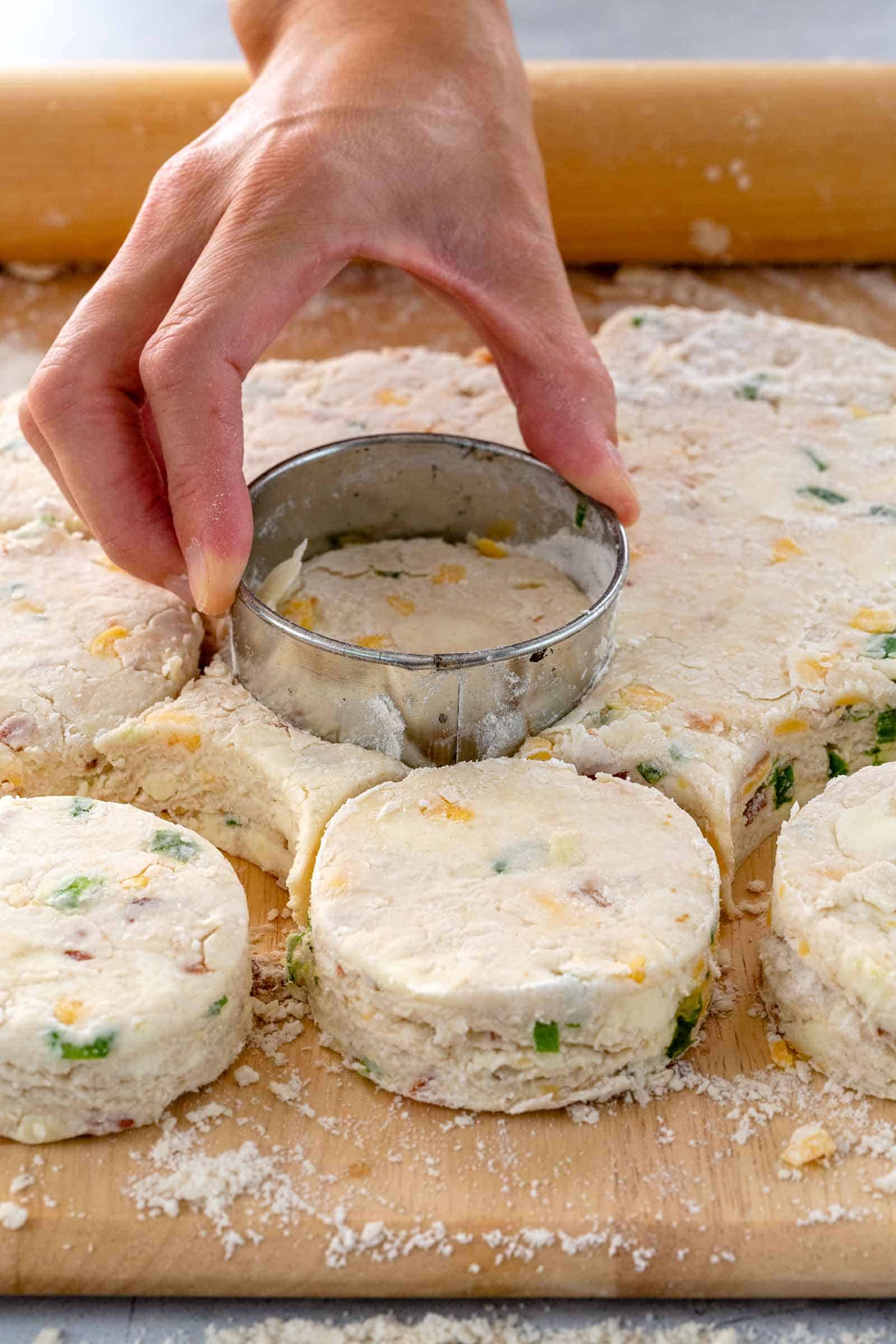 HOMEMADE BISCUITS
Using your fingers: press flat, nickel-sized pieces of butter into the flour mixture to create large pockets. This will make distinct layers once the biscuits are baked.
Stack the biscuit dough into four layers.
Roll out to make multiple physical layers.
When cutting into rounds with a biscuit cutter make straight down cuts. If you twist, the layers on the edges will be crushed and stick together. This will make it harder to pull apart from each other as it bakes.
Allow the biscuit dough to rest and chill before baking so that the butter stays cold and keeps the layers separate.
The key to ensuring lots of layers is making sure to roll and cut the dough a certain way. You'll have irresistible tall and tender bacon cheddar biscuits that will disappear fast from the dinner table.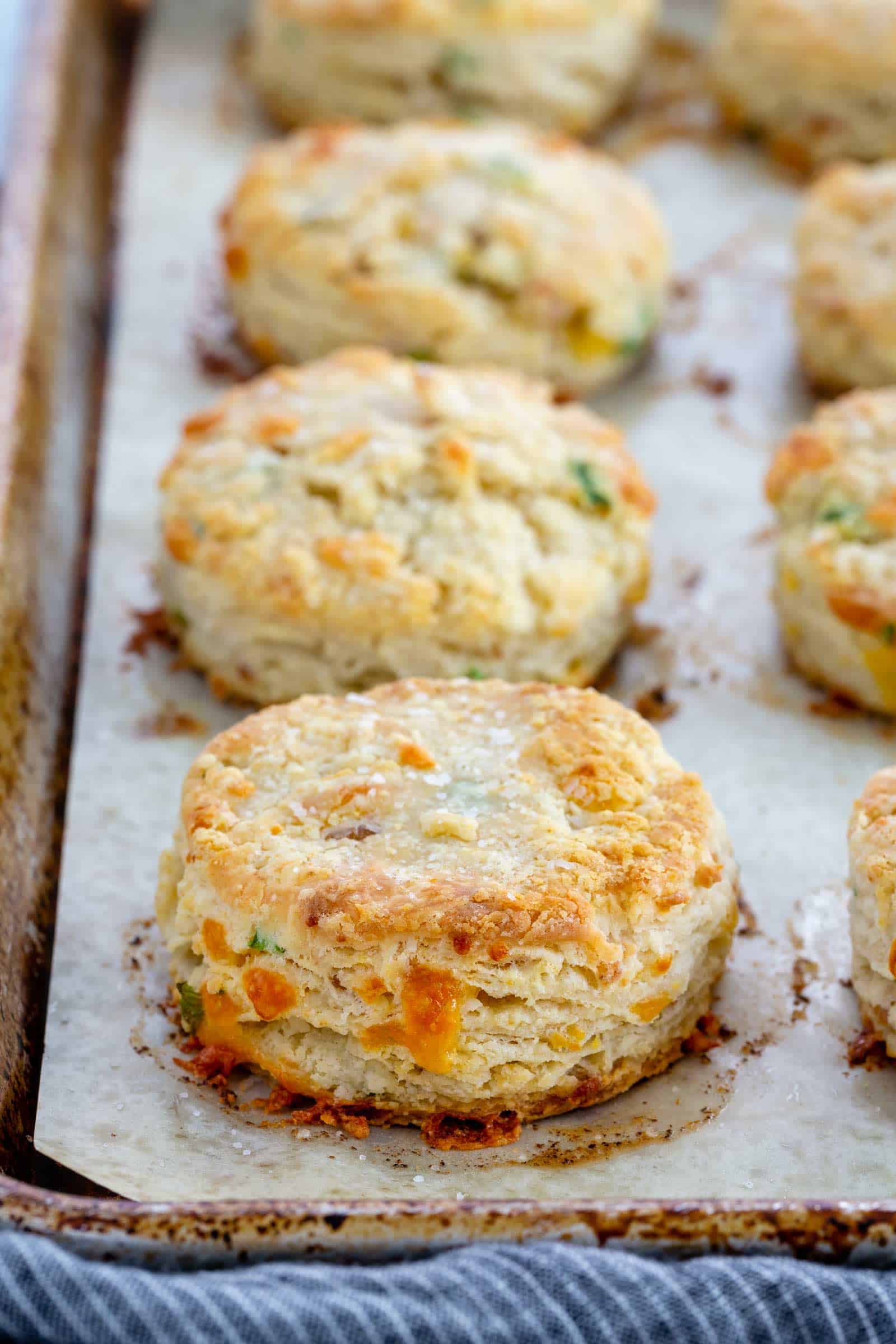 HOW TO MAKE GOLDEN BISCUITS
Brushing the surface of the biscuits with melted butter not only makes the biscuits tastier but also helps with texture and color. The milk solids in the butter enhance the browning reaction. This ensures that beautiful golden colour in a short amount of baking time.
Baking at high temperatures of 450 degrees quickly dries the exterior of the biscuits, creating an extra crispy experience when you first bite into the bread.
As the cheese melts, it creates a gooey contrast on the inside. The cheese becomes a little fried around the edges of the biscuits. If there are any bacon cheddar biscuits leftover, wrap and freeze them so you can grab and reheat whenever the craving hits!
Serve these bacon cheddar biscuits with Gravy for the best flavours!
Love breads? Try these recipes!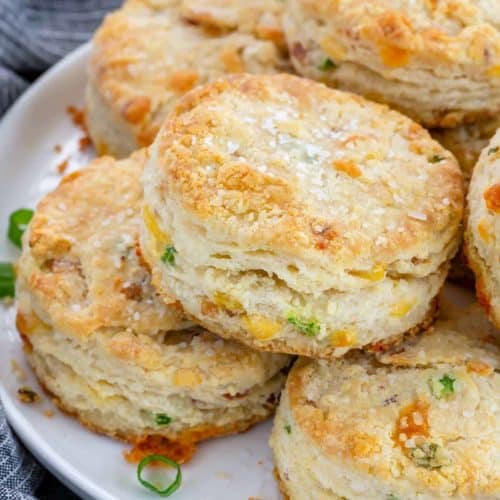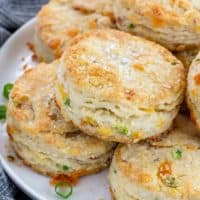 Bacon Cheddar Biscuits
Bacon cheddar biscuits are savory and buttery quick breads, perfect to serve alongside any meal!
PRINT
SAVE
go to your favorites
Ingredients
4

slices

bacon

3 1/2

cups

all-purpose flour

1

tablespoon

baking powder

1/2

teaspoon

baking soda

2

teaspoons

kosher salt plus more for topping

2

teaspoons

granulated sugar

1

cup

unsalted butter plus 2 tablespoons for brushing

½

cup

shredded cheddar cheese

¼

cup

sliced green onions

1 1/4

cup

buttermilk

chilled
Instructions
Adjust the oven rack to the lower-middle position. Preheat the oven to 375°F.

Place bacon on a foil lined sheet pan. Roast in the oven until crispy, about 15 to 20 minutes. Drain on paper towels, then chop once cooled.

In a medium-size bowl, whisk together the flour, baking powder, baking soda, salt, and sugar.

Cut 1 cup of cold butter into 1⁄8-inch thick pieces. Add a few butter slices at a time into the flour mixture and toss to coat.

Press each slice of butter between the floured thumb and pointer finger, pressing and breaking the butter off into flat, nickel-sized pieces.

Repeat the process with the remaining pieces of butter, then toss to combine. Freeze the mixture in the bowl until chilled,15 minutes.

Add the chopped cooked bacon, cheddar cheese, and green onions to the flour mixture. Stir the ingredients to combine.

Gradually add 1 ¼ cup buttermilk into the chilled flour mixture, stirring with a fork until incorporated.

Knead the biscuit mixture in the bowl a few times until a shaggy dough forms; it will look slightly dry.

Lightly dust a working surface with the flour. Turn the mixture onto the floured surface and shape and press with hands until combined into a 1-inch thick square, about 8 x 8 inches.

Cut the dough into 4 even-shaped squares and stack as evenly as possible on top of each other.

Lightly flour a rolling pin and roll the dough out into a 1-inch thick square, about 8 x 8 inches.

Leave about a 1⁄4-inch border along the edges when cutting the biscuits to give even layers. Using a 2 3/4 -inch floured biscuit cutter, press the cutter straight down into the dough, without turning.

Transfer to a parchment paper–lined baking sheet and repeat with the remaining dough.

Refrigerate the biscuits for 30 minutes before baking.

Adjust the oven rack to the lower-middle position and preheat the oven to 450°F.

Transfer the biscuits to a new parchment paper–lined sheet pan. Make sure that the biscuits are at least 1 inch apart on the sheet pan.

Melt 2 tablespoons butter, brush on top of each biscuit and sprinkle with salt.

Bake the biscuits until golden brown, 12 to 15 minutes. Cool for 5 to 10 minutes before serving.
Nutrition
Calories:
506
kcal
|
Carbohydrates:
45
g
|
Protein:
10
g
|
Fat:
31
g
|
Saturated Fat:
18
g
|
Cholesterol:
79
mg
|
Sodium:
811
mg
|
Potassium:
304
mg
|
Fiber:
1
g
|
Sugar:
3
g
|
Vitamin A:
875
IU
|
Vitamin C:
0.6
mg
|
Calcium:
176
mg
|
Iron:
2.8
mg