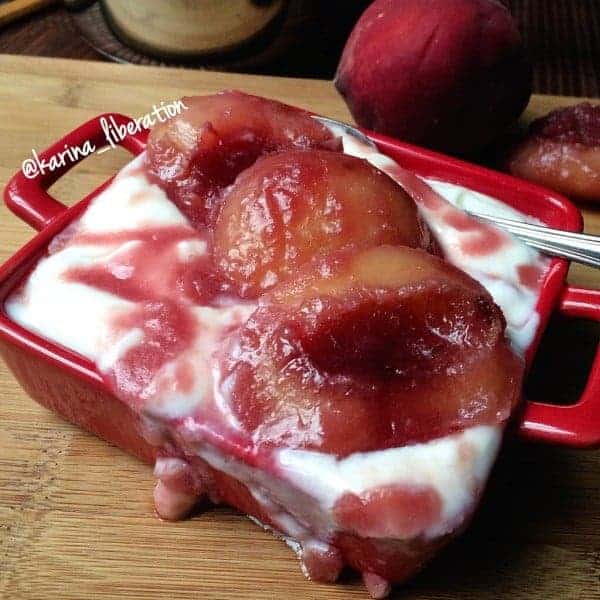 Vanilla Infused White Peaches in Syrup.
Only 62 calories.
And! Believe it or not, these warm and sweet peaches cooked in this beautiful vanilla syrup is 0pp on the Weight Watchers ProPoints plan.
I love white peaches and nectarines! So naturally sweet and juicy, they go with anything.
And cooking them up like this… you can serve them over Vanilla Greek Yoghurt; Frozen Yoghurt; or Ice Cream for extra indulgence!
A beautiful sweet and healthy snack!! OR dessert!
Recipe:
Serves 2
In a small saucepan, combine 1 cup of water with 1/4 cup natural sweetener/sugar of choice of choice and 1 teaspoon vanilla extract on low – medium heat.
Cut 2 white fleshed peaches/nectarines in half, and place them flesh side down into the water.
Bring to the boil, then reduce heat to cook on a gentle simmer. Turn the peaches after 5 minutes skin side down, and keep turning in 3 – 5 minute intervals until peaches have softened and a beautiful rosy pink thick syrup is formed (about 15 minutes).
Take off the heat and allow to cool slightly. Remove pits and skin.
Serve as mentioned above!
Enjoy!