Merging two favourites into one delectable parcel, these Chicken Fajita Sweet Potatoes are a deliciously creamy way to change a meal from boring to fiesta! Okay, so that sounded as cheesy as these are in cheese, but it's the only way to best describe the flavour in these Chicken Fajita stuffed Sweet Potatoes.
Healthy and filling comfort food in the form of sweet potatoes stuffed with a chicken fajita filling. I cannot begin to tell you how amazing these are. Or were, as the case may be. Especially only being 206 calories each!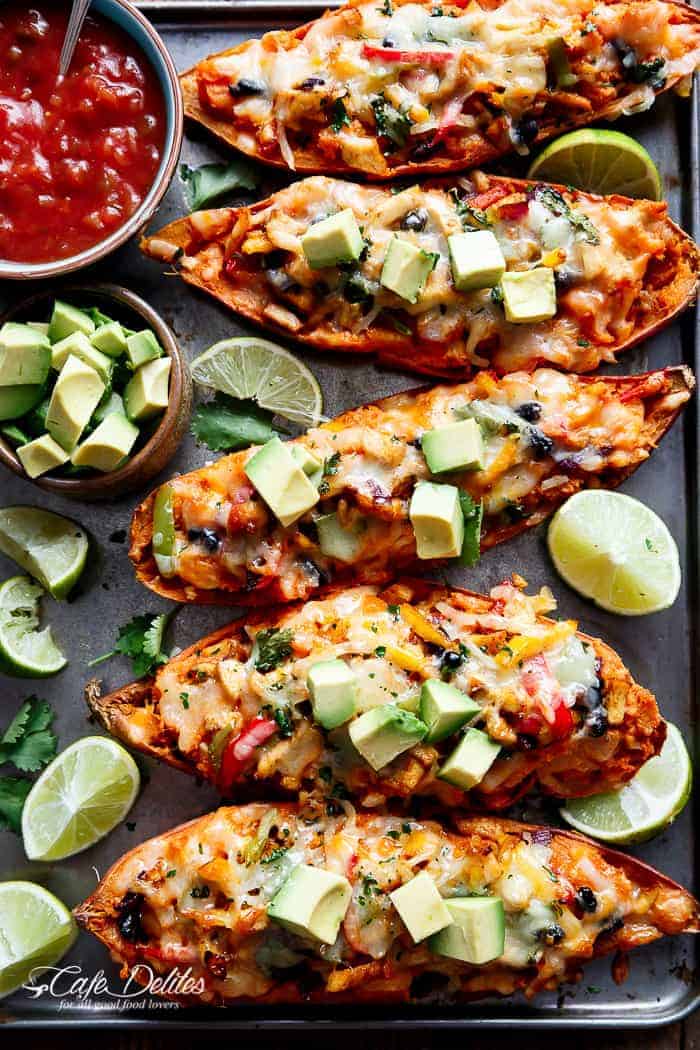 Simple to make; no chef skills required. Just good-sized sweet potatoes and an oven. This recipe is so versatile, it's a no fail situation using raw or cooked chicken breast, peppers (capsicums) of all colours, some red onion, and tex-mex inspired flavours.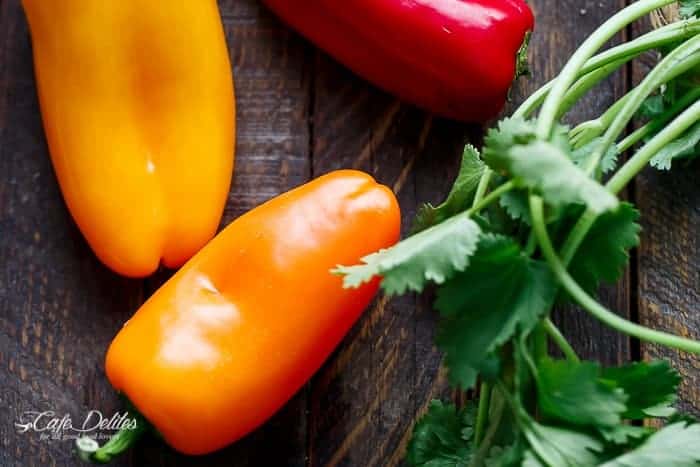 With a quicker 20-minute version, or a slower 'hour and 15 minutes' version, these taters will fast become a family favourite!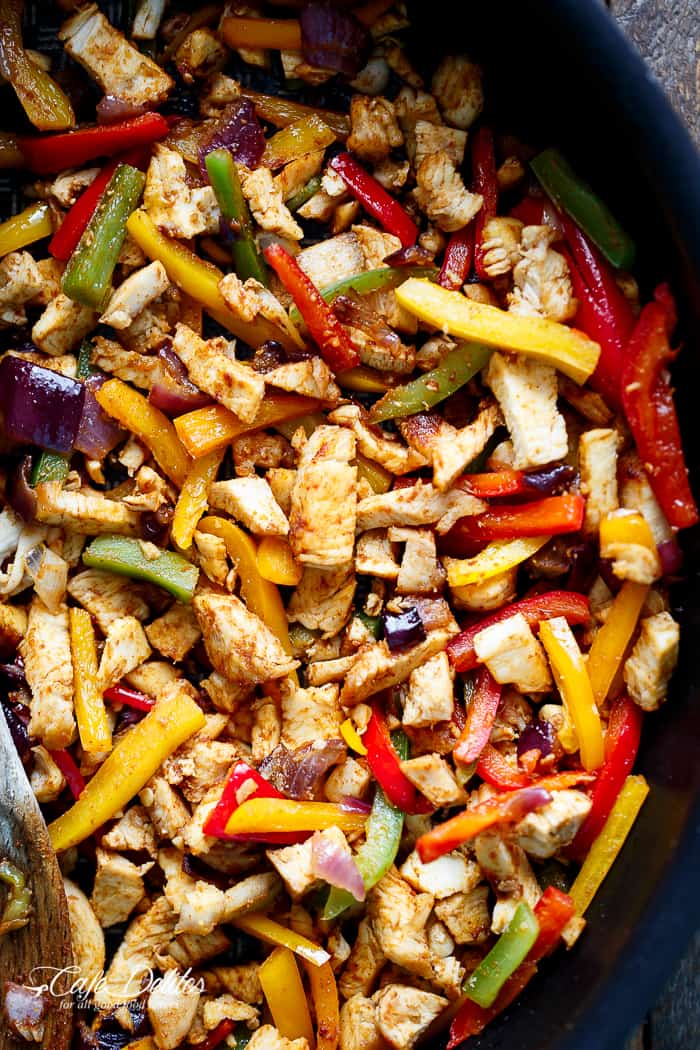 Fry up your chicken fajita filling…
Roast (or microwave) your sweet potatoes. Scoop out the flesh, mix it up with your fajita filling, and stuff em back the way they were. Or, sort of how they were.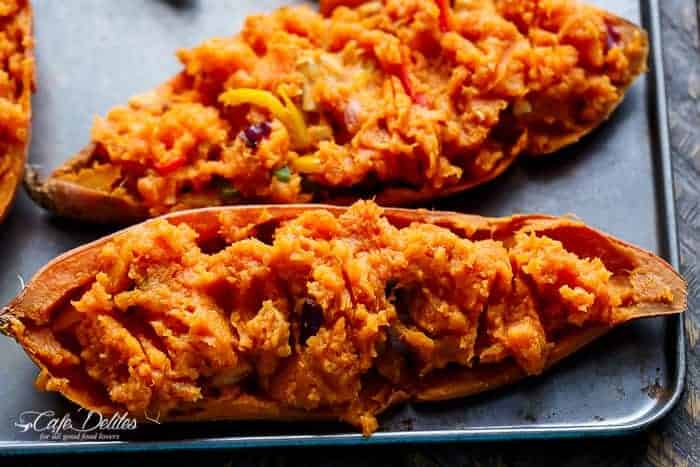 Top with a little extra fajita mix for extra flavour. Sprinkle with cheese…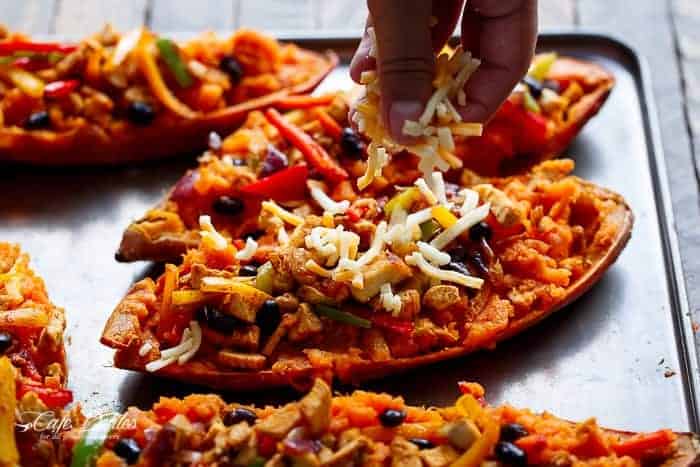 And back into your oven to melt that cheese.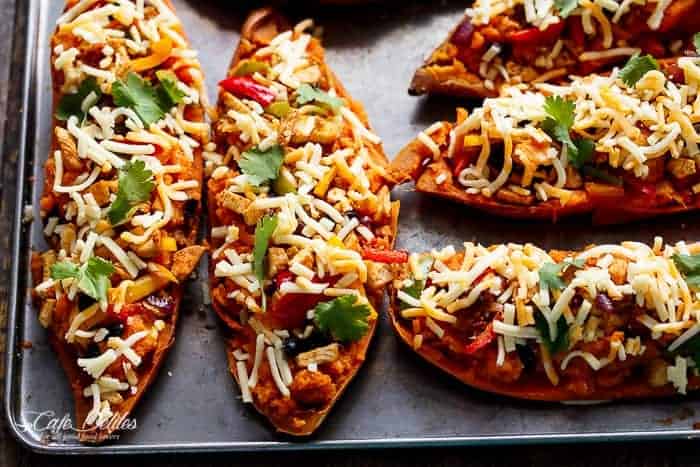 All of the ingredients and the flavours start a party in your mouth, the kind with pistols firing in the air.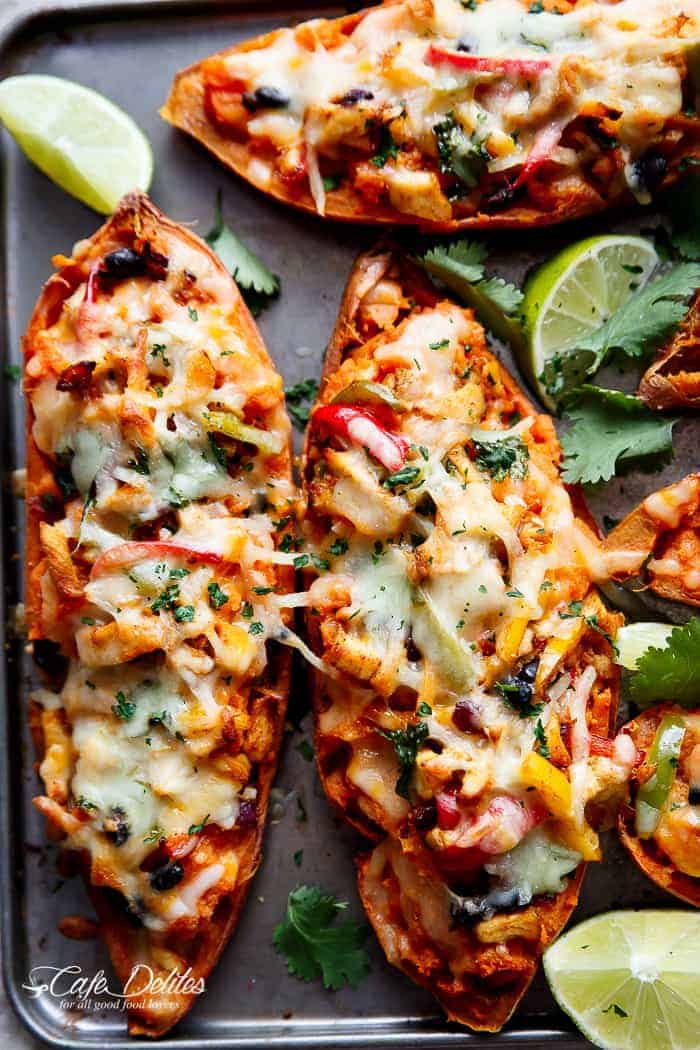 Top these Chicken Fajita Sweet Potatoes with cubed Avocado and some chopped cilantro (coriander) and drizzle with lime juice!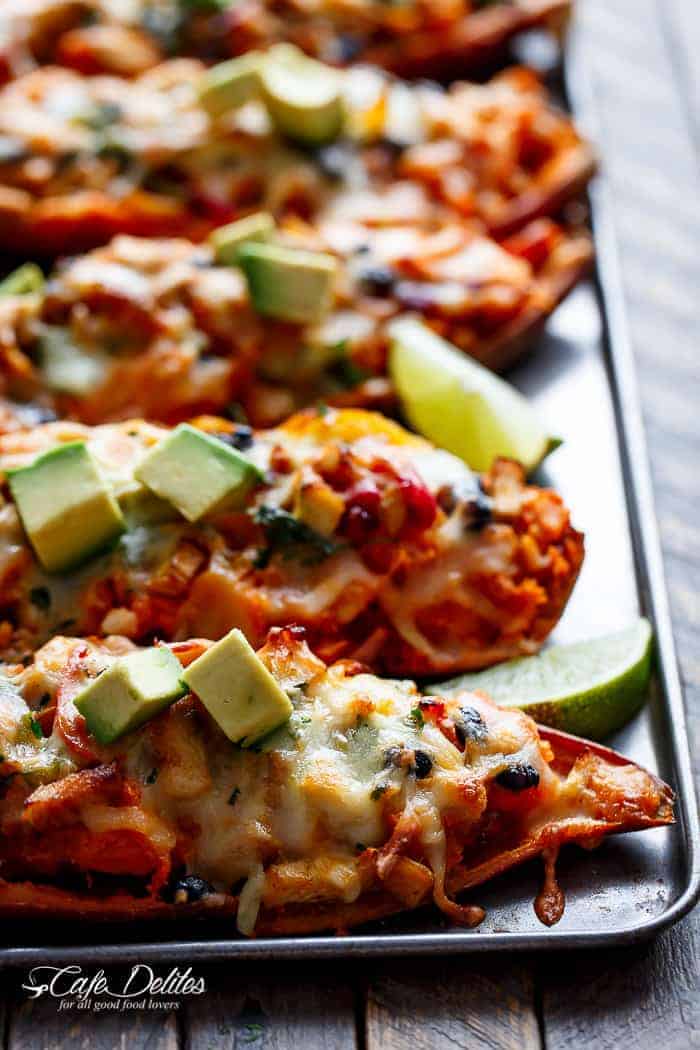 And finally, serve with your favourite salsa dip.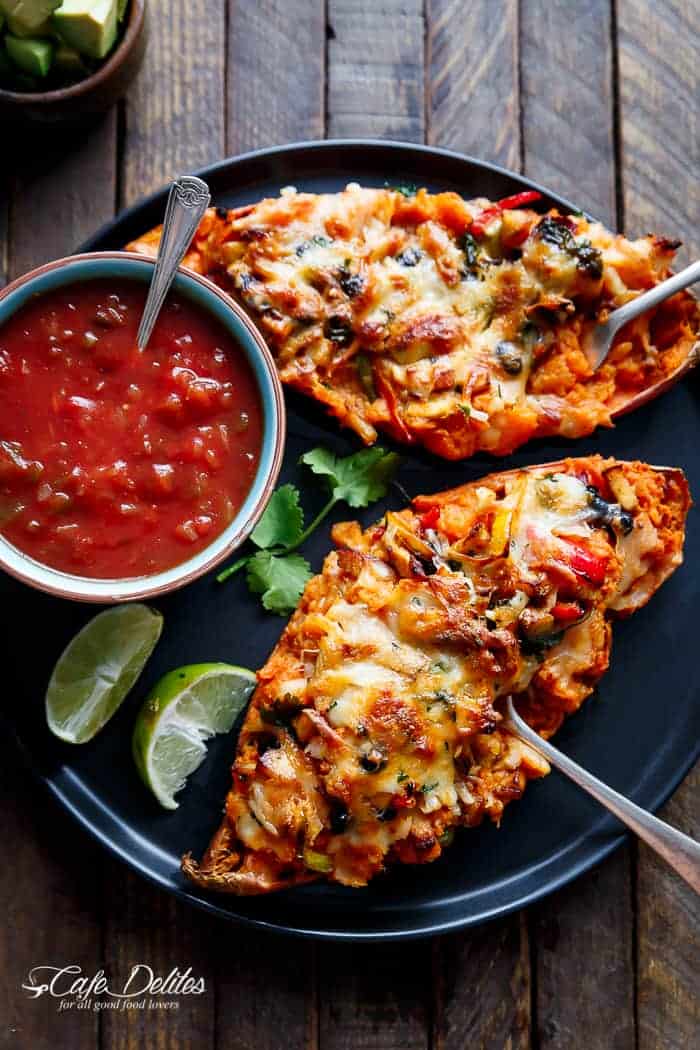 However, my favourite part is watching the cheese pull.
Ah yes. Cheesy cheese pull.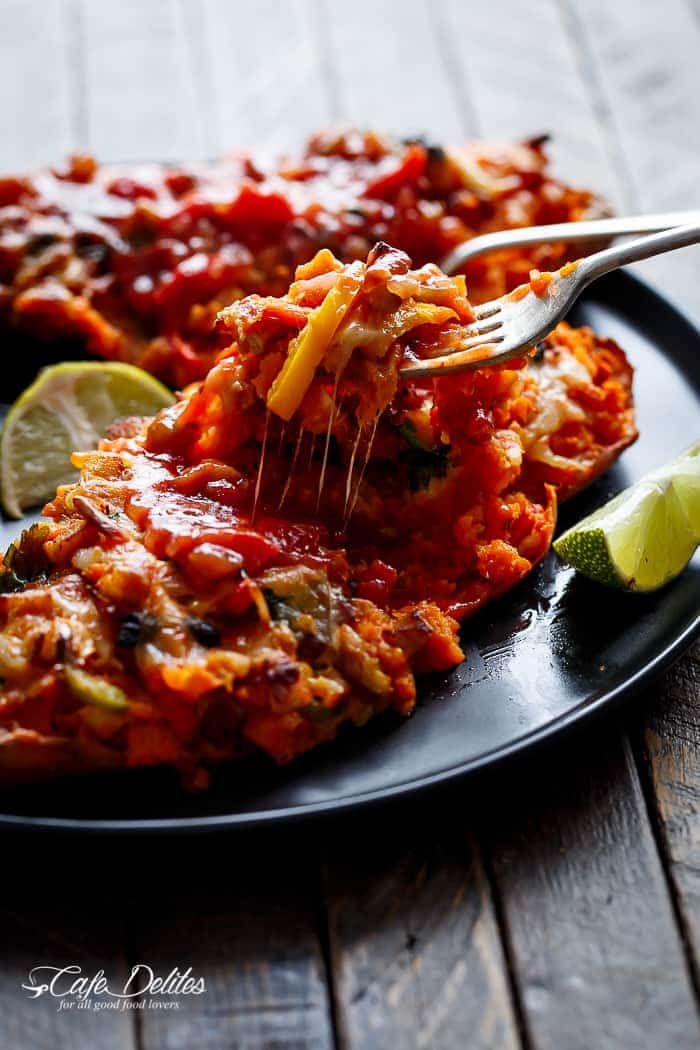 And when you're done with these Chicken Fajita Sweet Potatoes, try these Cheesy Bacon Bolognese Stuffed Sweet Potatoes. Or have the ultimate breakfast in tex-mex style with a Huevos Rancheros Tortizza!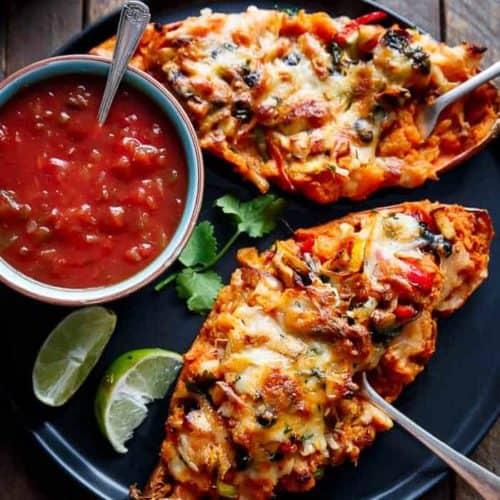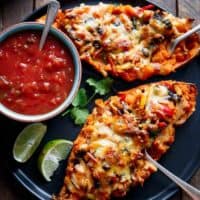 Twice Baked Chicken Fajita Sweet Potatoes
Chicken Fajita Sweet Potatoes | Healthy and filling comfort food and a deliciously creamy way to change a meal from boring to fiesta!
Weight Watchers: 6 sp per chicken fajita stuffed sweet potato
PRINT
SAVE
go to your favorites
Ingredients
3

whole medium-sized sweet potatoes

, washed and scrubbed

Olive oil

1/2

a red onion

, thinly slice

1

x 250 g | 9 oz cooked chicken breast

, sliced into 1-inch strips

2

cloves

garlic

, minced

1

small red capsicum/bell pepper

, sliced

1

small orange/yellow capsicum/bell pepper

, sliced

1

small green capsicum/bell pepper

, sliced

1/4

cup

tinned black beans

, washed and rinsed

1/2

teaspoon

ground cumin

1

teaspoon

sweet

(or smoked) paprika

1

cup

shredded Mexican cheese

(or cheddar or mozzarella cheese)

1

lime

, juiced

1/4

cup

coriander/cilantro leaves

Extra lime wedges to serve

1

Avocado

, diced (to serve - OPTIONAL)

Salsa to serve
Instructions
Fast Method:
Wrap sweet potatoes in one piece of paper towel. Microwave on high settings for 10 minutes. Remove carefully from microwave and unwrap (being careful of the steam that will escape from inside the paper towels). Pierce all over with a fork, wrap again and microwave for a further 14-15 minutes until soft (if the centres are still a little hard, don't worry they will continue to cook in the oven later).
Slow Method:
Preheat oven to 220°C | 430°F. Spray a baking tray/sheet with nonstick spray and arrange sweet potatoes the tray. Roast for one hour in the oven, or until soft (check them after 40 minutes, pierce with a fork, and continue roasting if needed).

While the sweet potatoes are cooking, add a small amount of oil to the pan; add the onions to a skillet/frying pan over medium-high heat. Once transparent (about 1-2 minutes), add the chicken, garlic and capsicum/peppers. Cook until the garlic is fragrant. Add in the seasonings and continue cooking until chicken is completely coated in the seasonings. Mix the beans through; take off heat and set aside

Remove the sweet potatoes from the oven; allow them to cool for about 5 minutes until they are just warm enough to handle (not until they're completely cold); and carefully slice them in half. Slice around the inside of the skin, leaving 1cm 'wall' around the inside of the skin. Slice small cubes into the flesh for easier removal. Scoop out the flesh and transfer it into a medium-sized mixing bowl. Set the skins aside.

Add the chicken fajita mixture to the flesh in the bowl; mix it through until completely combined. Stir in the lime juice.

Arrange the skins on the same baking tray/sheet, and stuff them with the fajita sweet potato mixture. Sprinkle with cheese and the coriander/cilantro leaves. Put them back into the oven for 15-20 minutes until cheese is bubbling and starting to brown (or place under the grill/broiler in the oven for golden, crispy cheese for 10 minutes).

Serve with any left over coriander/cilantro leaves, lime wedges, avocado pieces and smother in salsa dip.
Nutrition
Calories:
206
kcal
|
Carbohydrates:
13.6
g
|
Protein:
21
g
|
Fat:
7.2
g
|
Fiber:
2.1
g