Potato, Egg and Green Bean Salad with a Garlic Infused Lemon Dressing! A perfect potato salad to accompany any weekend roast! Ok. So I know it's not the weekend…but I'd like to think I'm preparing you for it.
Tender boiled potatoes joined with green beans and perfect egg slices…in one pot! How? Read on!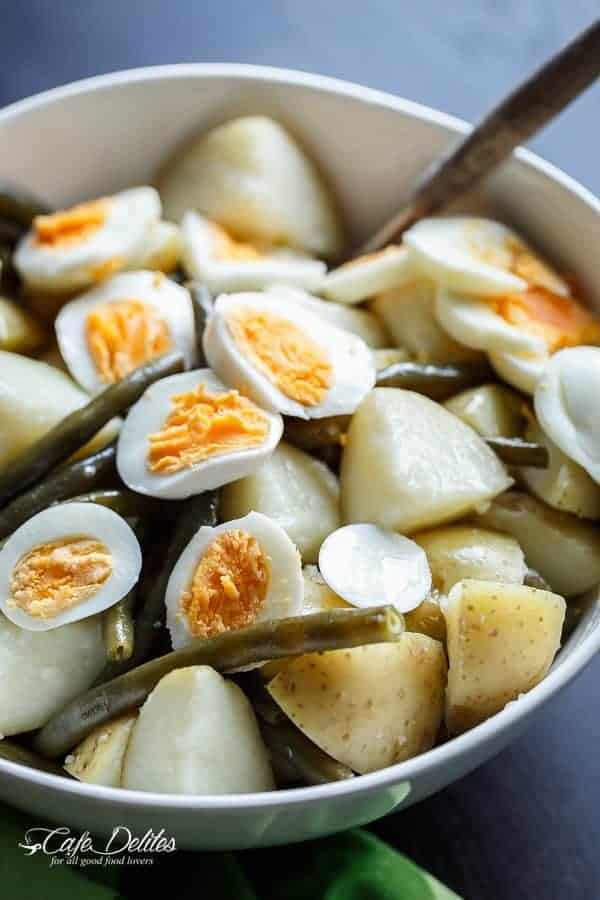 Start by cutting your potatoes into cubes and washing your greens. That's it. That's all the prep you need.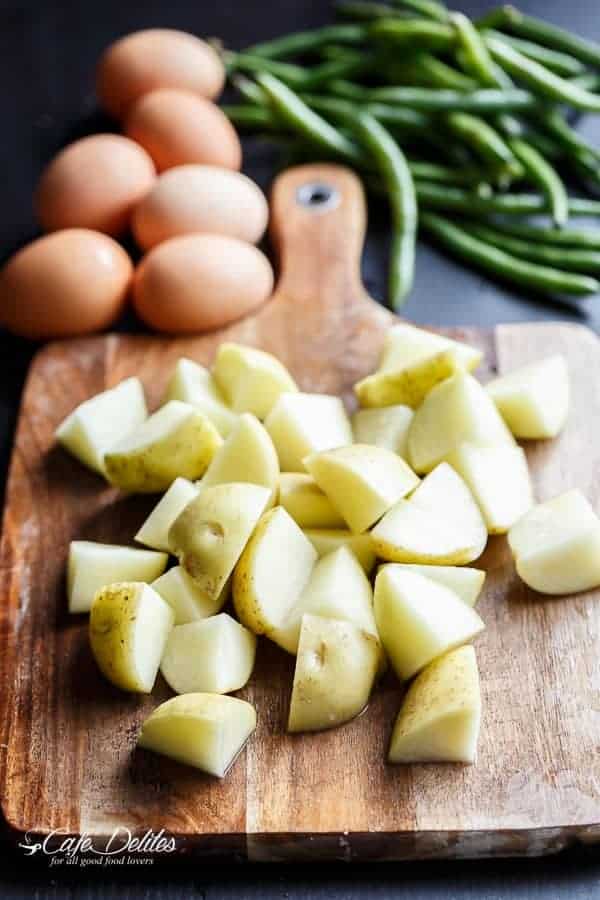 Bring your potatoes and whole eggs to the boil; remove your eggs after 8 minutes (more or less depending on how you like your eggs); and place your eggs in a bowl full of icy cold water to stop the cooking process. This also helps to peel them easier!
Add the beans to the pot with your potatoes and continue cooking until your potatoes have softened and your green beans are cooked to your liking.
Done. No, I'm not kidding.
And if you have a Roast Lamb sizzling in your oven…this can all be done while your roast is baking.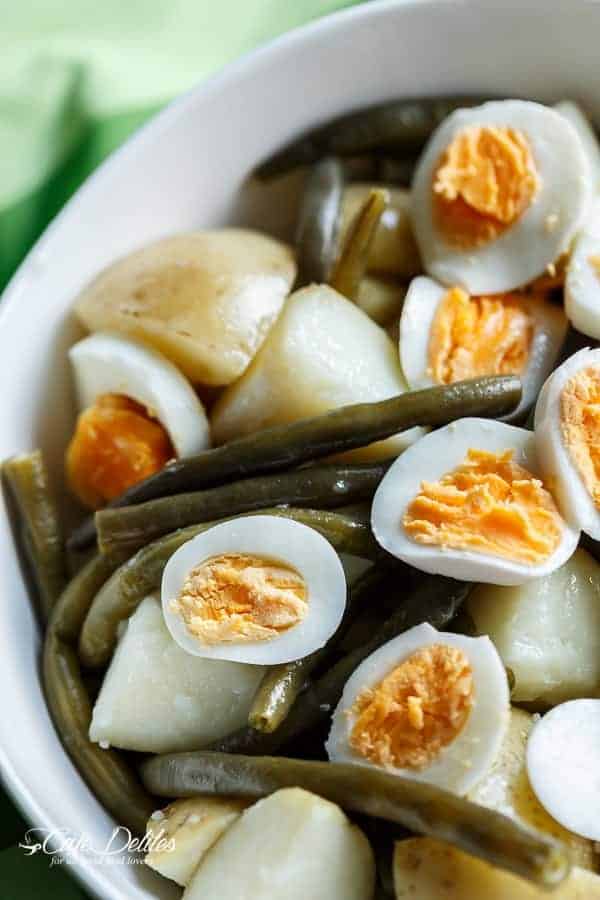 The most beautifully cooked potato salad in one pot, drizzled with an uncomplicated and simple garlicky lemon dressing.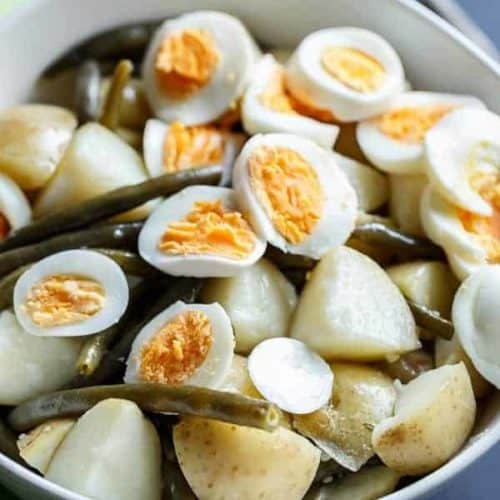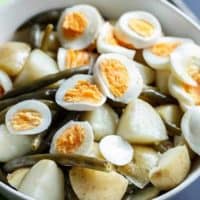 Potato, Egg and Green Bean Salad with a Garlic Infused Lemon Dressing
Potato, Egg and Green Bean Salad with a Garlic Infused Lemon Dressing...all in one pot!
PRINT
SAVE
go to your favorites
Ingredients
6

potatoes

, skin on, washed and scrubbed, cubed

4

large

, whole eggs

2

cups

green beans

, washed

2

tablespoons

garlic infused olive oil

(or 2 tablespoons olive oil mixed with 1 clove garlic, crushed)

1

teaspoon

lemon juice

1

teaspoon

sea salt

(or to taste)
Instructions
Bring potatoes and eggs to the boil in salted water for 8-10 minutes, or until the potatoes are just beginning to soften. Remove eggs with a slotted spoon and place in a bowl filled with cold water to stop the cooking process. *See Notes. (You may need to rinse and refill if the water becomes to warm, or they will continue to cook).

Add the green beans to the pot of potatoes and continue to boil until the potatoes have cooked through (pierce with a fork to test), and the green beans have changed in colour to a vibrant green. (Optional: Remove the green beans earlier during cook time if you like them tender-crisp, and place them in a bowl of cold water).

Drain the potatoes and green beans; transfer to a large bowl and fill with cold water and ice, again to stop the cooking process.

Meanwhile, whisk the olive oil, lemon juice and salt together. When the potatoes have cooled, drizzle the oil mixture over them; peel and slice the eggs and add them over the salad.

Serve!
Notes
*If you like soft boiled eggs with a semi-runny yolk, remove them after 6 minutes. If you like eggs as they are pictured, remove after 8 minutes. If you like them hard boiled, remove after 10 minutes).
Serve with your Sunday Roast, or this Sundried Tomato Roast Lamb, and lick your fingers.