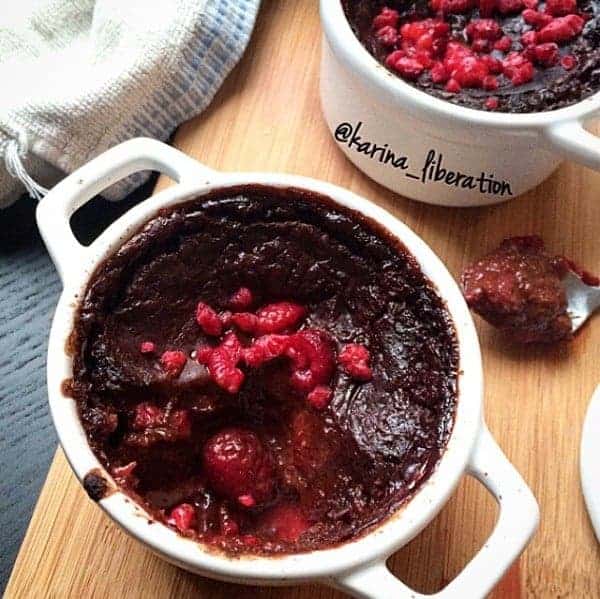 Mocha Raspberry Almond Pudding
Gluten free! Eggless! Flourless! FlavorFULL!!
Pudding:
1 cup fresh raspberries, divided
1 teaspoon sweetener/raw sugar, divided
4 tablespoons almond meal
1 tablespoon unsweetened cocoa powder
1 teaspoon instant coffee powder
1 teaspoon baking powder
2 tablespoons granulated sweetener or raw sugar
1 teaspoon melted light/low fat butter (sub with coconut oil
1/3 cup unsweetened almond milk
Sauce:
1 tablespoon unsweetened cocoa powder
1 1/2 tablespoons sweetener/raw sugar
5 tablespoons boiling water
2 tablespoons (extra) boiling water
Method:
Preheat oven to 200C | 390F.
Grease 2 small ramekins with any cooking oil spray.
Divide the raspberries and sweetener/sugar in half into the bases of the two ramekins and set aside.
In a small bowl, mix the almond meal, cocoa, coffee and sweetener/sugar.
Create a well in the centre, and add the melted butter/oil and milk.
Divide batter in half and pour over the raspberries in both ramekins.
Make the chocolate sauce by combing cocoa powder, sugar and water in a bowl (you can use the same bowl you used for the batter). Divide sauce in half and pour over the cake batters. Gently pour 1 tablespoon each of the *extra* boiling water over the back of a metal spoon over both puddings.
Place ramekins into oven and bake for approx 15 – 20 minutes (depending on your oven) until cooked or when a toothpick inserted into the centre of the puddings comes out clean!
Enjoy!