Jumbo Chunky Monkey Muffin
This single serve recipe is perfect for when you're only craving ONE muffin, and you don't want to bake a whole batch. In less than 20 minutes, you have a healthy and fluffy banana muffin in your hot little hands, without worrying about an all out binge on a whole tray!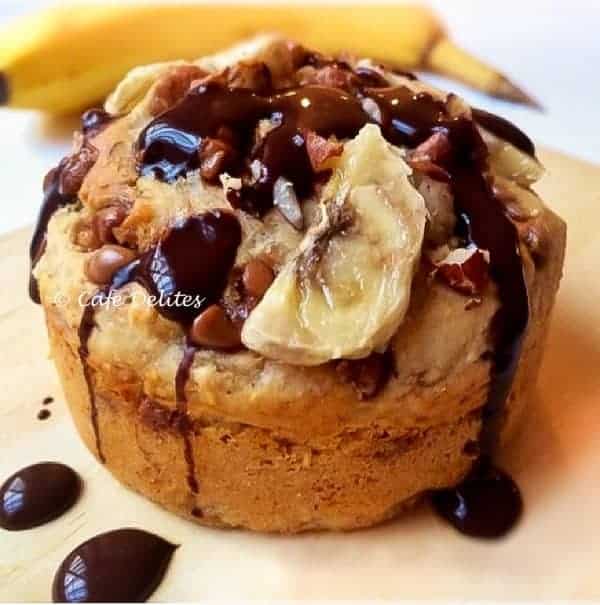 Weight Watchers: 5 ProPoints | PointsPlus for a BREAKFAST muffin?! I'm IN! Perfect point-age! OR! You could split the batter into TWO muffins for 2 ProPoints | PointsPlus EACH. But really, would you share this amazing muffin? Hmm.
Wee. That's my excuse anyway. I love single serve recipes. I can't be trusted with a whole tray of anything. I know. The shame. But I am human! And when it comes to cake, what is self control? Because I seem to be lacking in that department.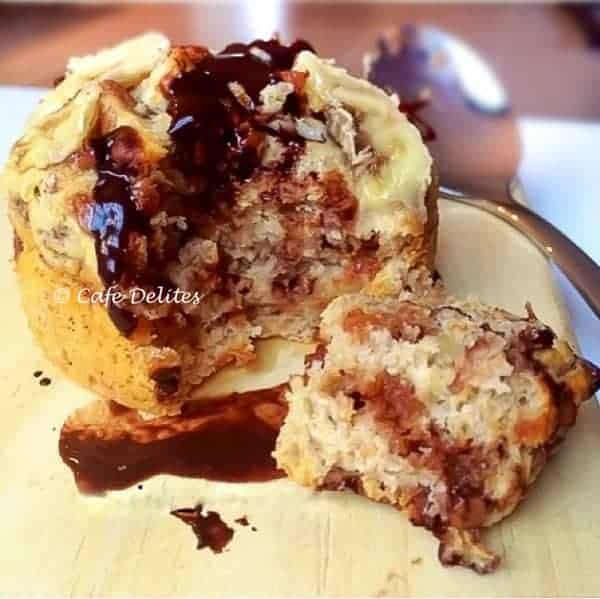 209 calories for ONE GINORMOUS CHOCCO CHIP MUFFIN!
OR FOR TWO: 104
This is an old shot. My Canon 6D would cringe at the quality. Nevertheless, the recipe is GOLD and I had to share it.
This recipe is so easy and quick to make.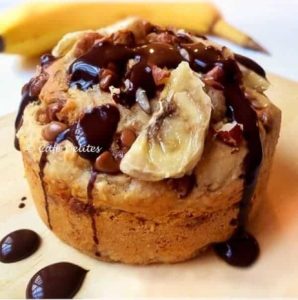 Ingredients
2

heaping tablespoons mashed banana

1/2

teaspoon

<a href="http://www.amazon.com/gp/product/B005ZLQOZO/ref=as_li_tl?ie=UTF8&camp=1789&creative=9325&creativeASIN=B005ZLQOZO&linkCode=as2&tag=cafedeli-20&linkId=UTW6H53ONSPUFWUV">Vanilla Extract

(no Alcohol)</a><img src="http://ir-na.amazon-adsystem.com/e/ir?t=cafedeli-20&l=as2&o=1&a=B005ZLQOZO" width="1" height="1" border="0" alt="" style="border:none !important; margin:0px !important;" />

1

heaping teaspoon

(10g) low fat vanilla greek yoghurt

3

tablespoons

<a href="http://www.amazon.com/gp/product/B000R77504/ref=as_li_tl?ie=UTF8&camp=1789&creative=9325&creativeASIN=B000R77504&linkCode=as2&tag=cafedeli-20&linkId=HZLO3W44GEZKBL4Z">Unsweetened Almond Milk</a><img src="http://ir-na.amazon-adsystem.com/e/ir?t=cafedeli-20&l=as2&o=1&a=B000R77504" width="1" height="1" border="0" alt="" style="border:none !important; margin:0px !important;" />

1/4

cup

(35 grams) <a href="http://www.amazon.com/gp/product/B0052OMOKS/ref=as_li_tl?ie=UTF8&camp=1789&creative=9325&creativeASIN=B0052OMOKS&linkCode=as2&tag=cafedeli-20&linkId=GV4YZCKZGXK6DMFM">Organic Spelt Flour</a><img src="http://ir-na.amazon-adsystem.com/e/ir?t=cafedeli-20&l=as2&o=1&a=B0052OMOKS" width="1" height="1" border="0" alt="" style="border:none !important; margin:0px !important;" /> (or plain/all-purpose flour)

1/4

teasp baking powder

2

teaspoons

<a href="http://www.amazon.com/gp/product/B00IXC5G56/ref=as_li_tl?ie=UTF8&camp=1789&creative=9325&creativeASIN=B00IXC5G56&linkCode=as2&tag=cafedeli-20&linkId=3AJDUIX26KV7OTEM">Natvia Natural Sweetener</a><img src="http://ir-na.amazon-adsystem.com/e/ir?t=cafedeli-20&l=as2&o=1&a=B00IXC5G56" width="1" height="1" border="0" alt="" style="border:none !important; margin:0px !important;" /> or sugar of choice

1

tablespoon

(10g) <a href="http://www.amazon.com/gp/product/B00BNQFZCI/ref=as_li_tl?ie=UTF8&camp=1789&creative=9325&creativeASIN=B00BNQFZCI&linkCode=as2&tag=cafedeli-20&linkId=R2BJ4UBVESM2H7B3">Semi-Sweet Chocolate Mini Chips</a><img src="http://ir-na.amazon-adsystem.com/e/ir?t=cafedeli-20&l=as2&o=1&a=B00BNQFZCI" width="1" height="1" border="0" alt="" style="border:none !important; margin:0px !important;" />

1

crushed pecan

(2g)

SUGAR FREE CHOCOLATE SAUCE:

1

teaspoon

<a href="http://www.amazon.com/gp/product/B001VNFHLC/ref=as_li_tl?ie=UTF8&camp=1789&creative=9325&creativeASIN=B001VNFHLC&linkCode=as2&tag=cafedeli-20&linkId=AFKNFBYUBO5RXHGD">Organic Cocoa Powder</a><img src="http://ir-na.amazon-adsystem.com/e/ir?t=cafedeli-20&l=as2&o=1&a=B001VNFHLC" width="1" height="1" border="0" alt="" style="border:none !important; margin:0px !important;" />

1- 2

teaspoons

<a href="http://www.amazon.com/gp/product/B000R77504/ref=as_li_tl?ie=UTF8&camp=1789&creative=9325&creativeASIN=B000R77504&linkCode=as2&tag=cafedeli-20&linkId=HZLO3W44GEZKBL4Z">Unsweetened Almond Milk</a><img src="http://ir-na.amazon-adsystem.com/e/ir?t=cafedeli-20&l=as2&o=1&a=B000R77504" width="1" height="1" border="0" alt="" style="border:none !important; margin:0px !important;" />

1

teaspoon

<a href="http://www.amazon.com/gp/product/B00IXC5G56/ref=as_li_tl?ie=UTF8&camp=1789&creative=9325&creativeASIN=B00IXC5G56&linkCode=as2&tag=cafedeli-20&linkId=3AJDUIX26KV7OTEM">Natvia Natural Sweetener</a><img src="http://ir-na.amazon-adsystem.com/e/ir?t=cafedeli-20&l=as2&o=1&a=B00IXC5G56" width="1" height="1" border="0" alt="" style="border:none !important; margin:0px !important;" /> or sugar of choice
Instructions
Preheat oven to 180C | 360F.

In a bowl, mix wet ingredients first, then add your dry ingredients

Fold in chocolate chips and crushed pecan

Pour batter into prepared muffin liner/s and bake for approx 20 minutes OR until a toothpick comes clean.

Meanwhile, prepare your chocolate sauce:

Mix all sauce ingredients together until combined, smooth and lump free.

Serve muffin with the sugar free chocolate sauce and enjoy
Nutrition
Serving:
1
g
|
Calories:
209
kcal
|
Carbohydrates:
33
g
|
Protein:
6
g
|
Fat:
4
g
|
Saturated Fat:
2
g
|
Fiber:
6
g
|
Sugar:
5
g