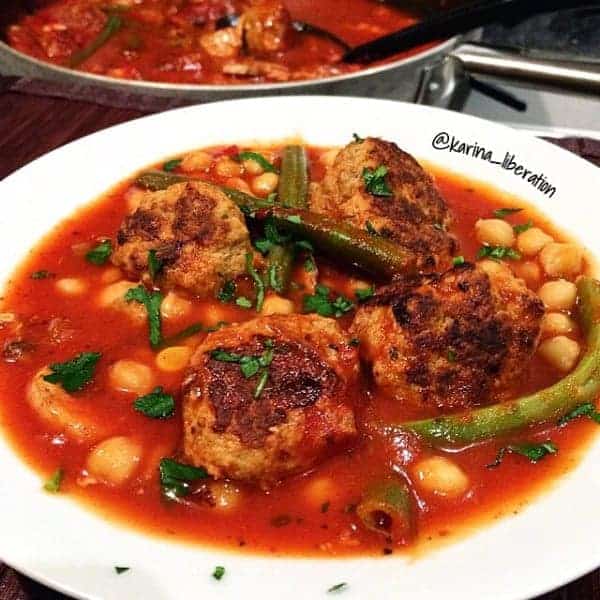 Garlic & Pesto Mini Turkey Meatballs with 2 Bean Tomato Soup
337 calories!
Weight Watchers: 7 ProPoints | PointsPlus
Recipe.
Meatballs:
500g lean ground turkey mince
6 tablespoons breadcrumbs
1/8 liquid egg whites/1 egg white
3 tablespoons traditional basil pesto
1 tablespoon chopped parsley
1 tablespoon tomato paste
2 teaspoons garlic powder
Salt to season (about 1/2 tablespoon)
Sauce:
1 jar pasta sauce of choice
1 can condensed tomato soup
3/4 cup water
2 tablespoons tomato paste
Salt/pepper to taste
1 cup green beans, washed and trimmed
1 can white beans/chickpeas, washed and drained
Extra chopped fresh flat-leaf parsley, to serve
Combine all meatball ingredients in a large sized bowl. Shape turkey mix into mini meatballs (about 22 – 25) using 1 heaping tablespoon full per meatball.
Spray pan with cooking oil spray and pan fry meatballs until underside is golden. Turn them and cook until golden.
Pour tomato sauce, soup and paste around meatballs, stirring to combine. Add both beans and simmer on low heat for 10 – 15 minutes or until meatballs are cooked through and beans are soft.
Serve with parsley.