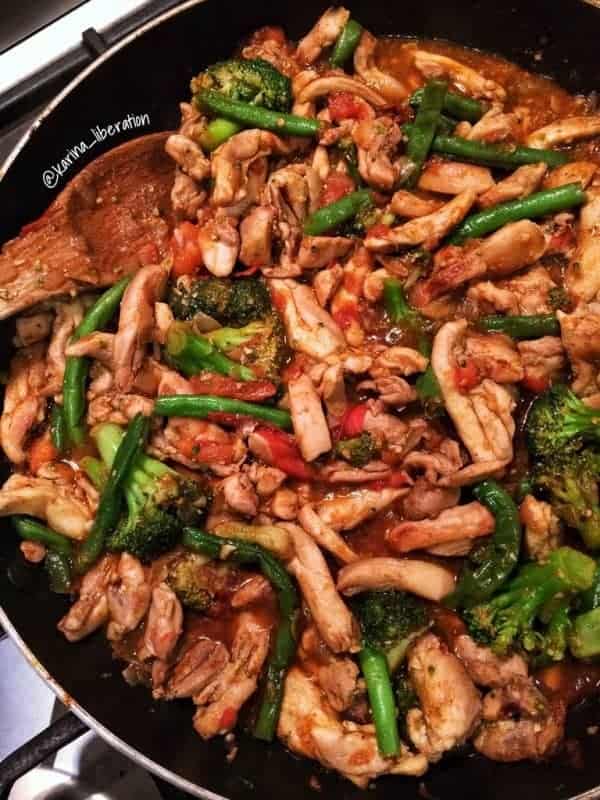 Chicken Strips In Bbq Sauce
This is our *go to* meal after a long day! No thinking required, and super fast to cook up! Just throw everything into a pan and BAM! Ready in 10 minutes tops!
To keep this meal low in carbs, calories/points; it can be served with Konjac noodles (read about them online)! Serves 4!
232 calories!
Weight Watchers: 5 ProPoints | PointsPlus!
Recipe:
1 onion, chopped
6 chicken thigh fillets, cut into strips
2 ripe tomatoes, chopped into wedges
2 cups chopped broccoli florets
2 cups green beans
2 teaspoons minced garlic
2 tablespoons Bbq sauce
1 tablespoons Soy sauce
1 – 2 teaspoons Worcestershire sauce (adjust to your tastes)
1 tablespoon vegetable stock powder (Vegeta)
Using cooking oil spray, fry onion until transparent. Turn up heat and add chicken strips. Fry until golden and crisp. Add tomatoes and vegetables. Lower heat to medium heat, and cook until tomatoes are soft.
Mix through garlic, sauces and stock powder, and cook further until sauce has reduced down and vegetables are just done.
Serve over Konjac noodles or rice, or enjoy as is!