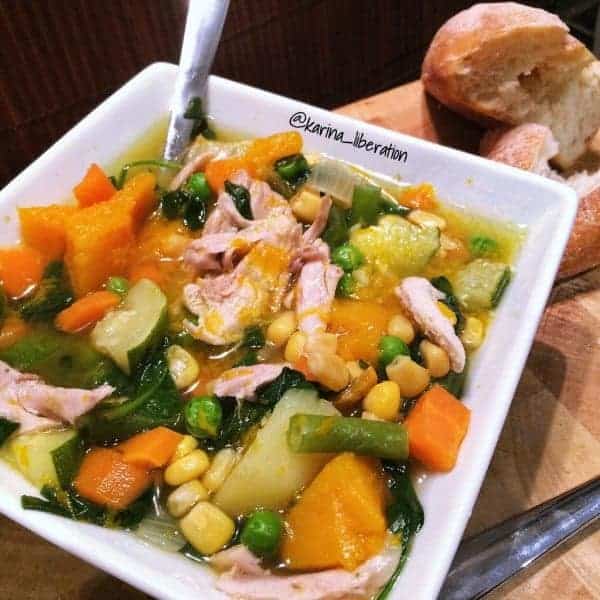 Chicken Corn & Vegetable Soup
Loaded with pumpkin, potatoes, peas, carrots, spinach and zucchini!
Perfect for a cold and rainy day.
Weight Watchers: 5 ProPoints | PointsPlus per serve
Yield 6 – 8 servings!
Chicken Vegetable Soup
2 chicken drumsticks, washed and peeled
1 onion, quartered
3 small potatoes, peeled and cubed
2 cups pumpkin, peeled and cubed
2 carrots, peeled and chopped
3 – 4 heaping tablespoons Vegeta (vegetable stock powder): adjust to suit your tastes
1 zucchini/courgette, diced
2 handfuls green beans, quartered
1 cup canned corn kernels
3/4 cup frozen peas
Salt to taste
4 cups baby spinach leaves, washed
Fill a large sized saucepan 1/2 full with water. Add the chicken, onion, potatoes, pumpkin and carrots, and bring to the boil. When water is boiling, add the stock powder, zucchini/courgette and green beans. Reduce heat and let it simmer.
Once potatoes and pumpkin have softened, add the corn and peas. Bring to the boil again, add salt to taste and the spinach. Stir, cover with lid and turn heat off.
Sprinkle with parsley for extra flavour!
To serve, cut chicken meat off the bone and serve with soup.