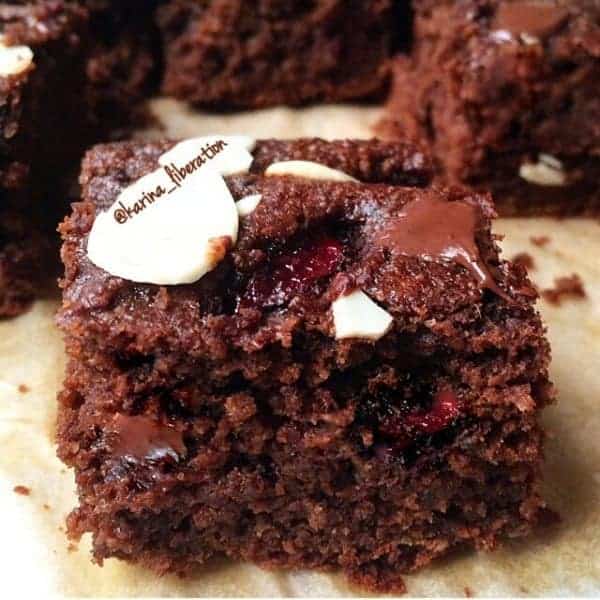 Cherry Mocha Almond Brownies
95.4 calories | 4.6g Protein | 5.4g Carbs | 5.7g Fat
Weight Watchers: 2pp for 1 brownie | 5pp for two!
Recipe
Yields 20 brownies
1 cup almond meal
3/4 cup oat flour (ground oats)
2/3 cup natural sweetener/sugar of choice
1/3 cup unsweetened cocoa powder
2 tablespoons instant coffee powder
1 teaspoon baking powder
1/2 teaspoon baking soda
Pinch sea salt
2 eggs
2 tablespoons low fat butter/coconut oil, melted
1/2 cup unsweetened apple sauce
1 tablespoon rice malt syrup/raw honey
1/4 cup warm water
10 pitted and diced cherries, divided
1/8 cup flaked almonds
1/4 cup dark/semi sweet chocolate chips, divided
Preheat oven 180C | 356F.
Line 9×9-inch square cake tin with parchment/baking paper.
Mix all dry ingredients in a bowl. Make a well in the centre and add in all wet ingredients (except water).
Once ingredients are combined, add in water and mix until smooth.
Fold 3/4 of the diced cherries and half the chocolate chips through the batter.
Pour batter into prepared tin. Top with almond flakes, remaining chocco chips and cherries.
Bake for 20 – 30 minutes or until set.