Banana Bread Chocolate Chip Blondies
Super moist and so fudgy banana blondies, sweetened with just the perfect amount of honey and full of chocolate chips. And…so healthy no one will ever guess what's in them.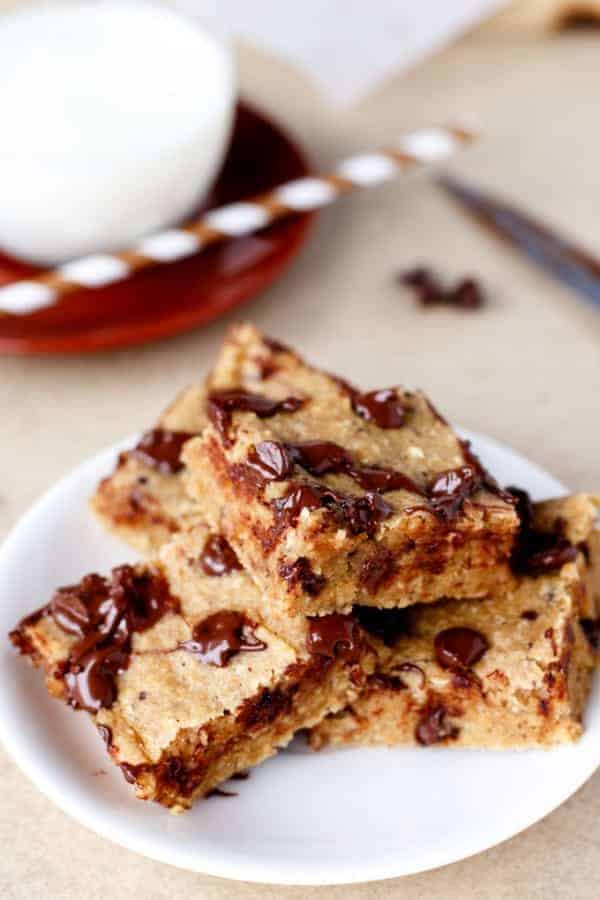 Ok. Confession time: You're honour, I'm guilty. Guilty of creating my Banana Bread blondies…again (but with a TWIST).
Yes, if you've been following me for a while on my blog or my Instagram page, you've probably seen these before. In fact, you can find all of my older banana blondie posts here –> Banana Bread Blondies, Reese's Banana Bread Blondies and Peanut Butter Cup Banana Bread Blondies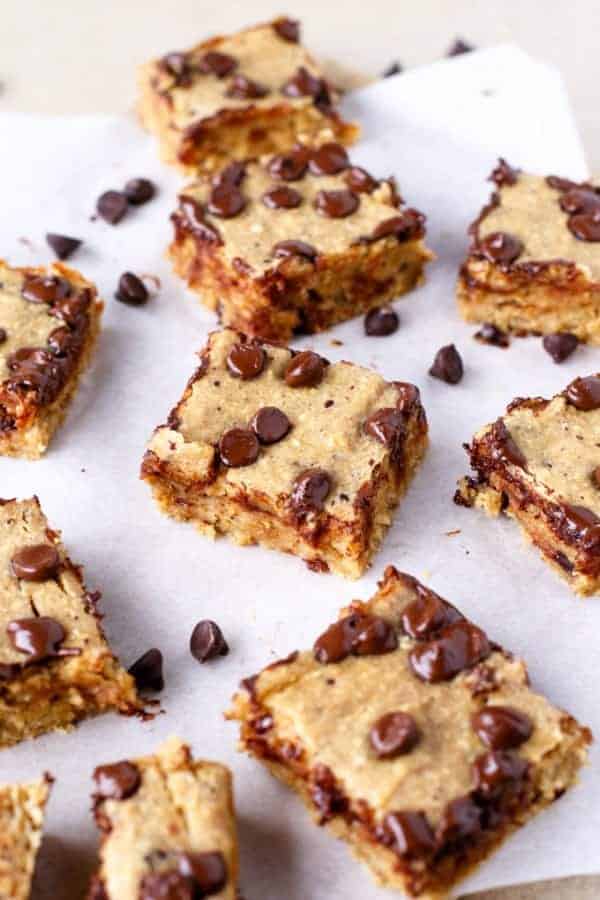 And, if you've just checked out those old posts, I'd like to apologise for those iPhone screen shots. I was pretty proud of them at the time..and actually, I still am. But, things have changed since then, and I've been wanting to re-shoot these for a very long time. They were one of my most popular recipes on Instagram, and have been recreated all over the world by over 100 people! I have a short video on my instagram page of over 30 of my readers recreations. Pretty cool huh? If only I could figure out how to get that video over to my blog? I-need-a-brain.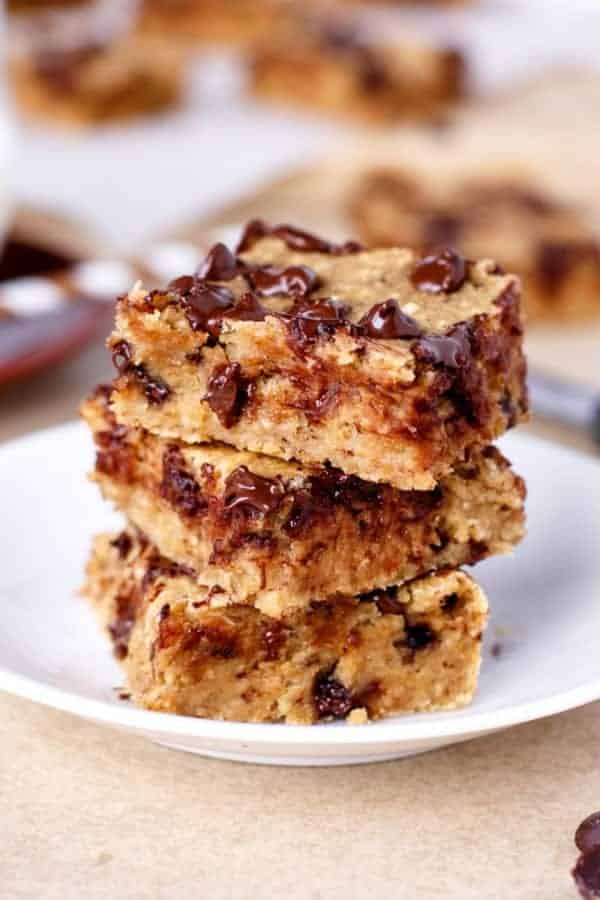 To cut an extremely long and boring story short, my daughter wanted them. She's never tried one, no matter how many times I've baked them, and she was complaining to me that: 'how come everyone else knows what my mums blondies taste like, but 'Iyyyyeeee' don't?' Yeah. It went down like that. So, being that I'm allergic to making the same recipe more than twice, (I don't know why, it's just how I am? And that's why there are so many variations of these healthy bad boys), I recreated these with some minor adjustments that make a hell-of-a-lot-of-a-difference. And now, I have a happy daughter bouncing off the kitchen walls, stuffing her face like it's the end of the world and there'll be no more Banana Bread Blondies left in existence.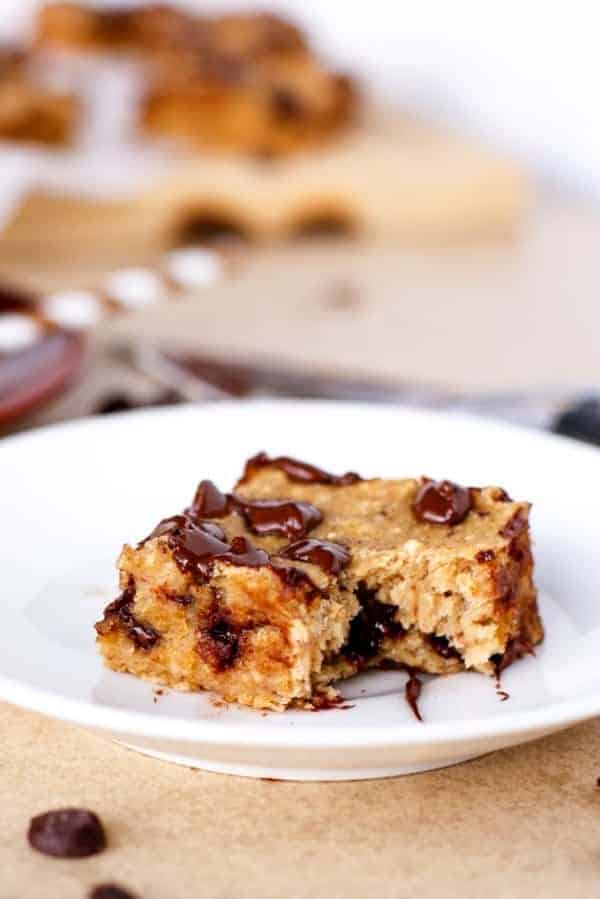 So fudgy. So moist! And made and baked with not only lotsa loving, but with a healthy twist. Not only do these have oats, honey and bananas (see? All healthy right there), they also haaaave…. Well. I know I'm gonna lose some of you with this reveal. There's chickpeas in 'em. Yeah there are. Now before you reach for your noses and go all EW on me, let me tell ya, if you've never tried chickpea blondies before, these bars should be at the top of your list. They will convert any non-believer and any critic from thinking chickpeas only belong in stews, salads and hummus. These.are.bomb. And if over 100 people around the world have anything to do with it, I'd go with that.
The bananas in these complete them in ways that complete something so perfectly, you might even cry. I did. I cried when I experimented and created these. There are so many chickpea blondies I've tried before, but I went alllllll out EW and pinched my nose. So when these came out so perfect? I cried. I was in a state of shock that chickpeas could create something so incredibly decadent as these.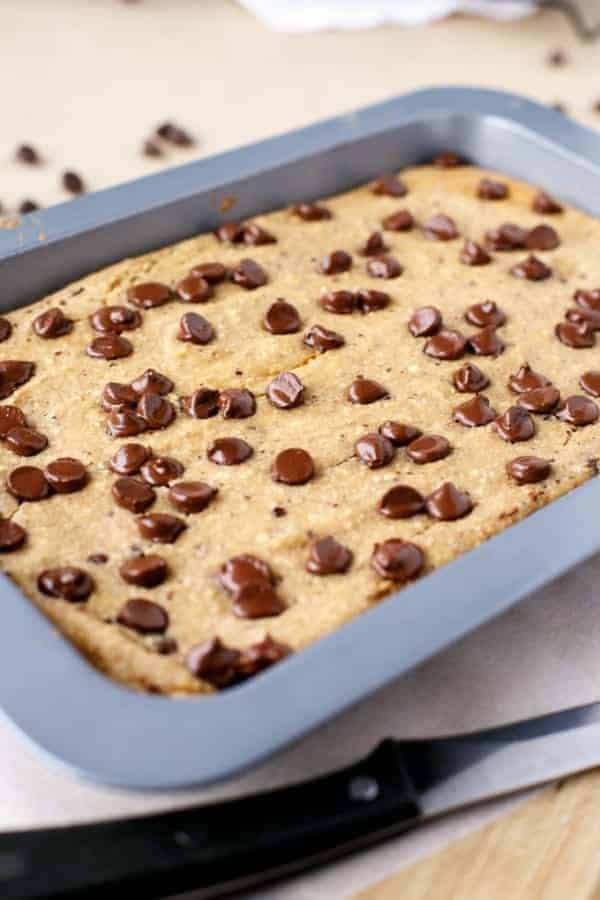 The best blondies and brownies I've made are always the ones with beans. Always. The only way of getting this same fudgy texture is with a heaping amount of brown sugar and butter with normal flour-based recipes. And these guys have half the fat and carb content of those notsohealthy ones. As much as I love the notsohealthy ones…my heart (and butt) still remain with chickpeas. I'm sorry. Not really.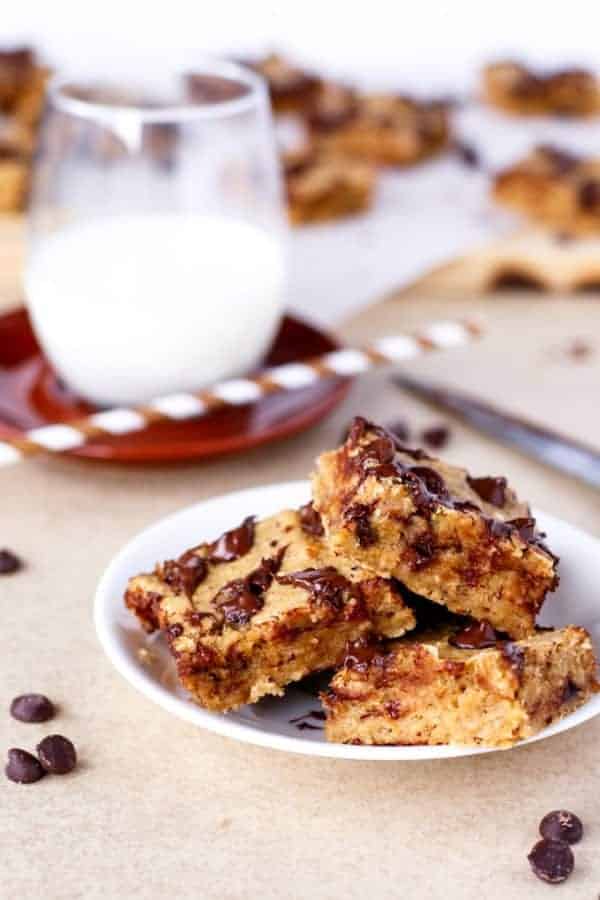 I made some modifications with these…a little more honey…a little more chocolate chips… a little extra baking powder, and just those three little adjustments, these are off the hook with them apple bottom jeans and boots with their furrrrr…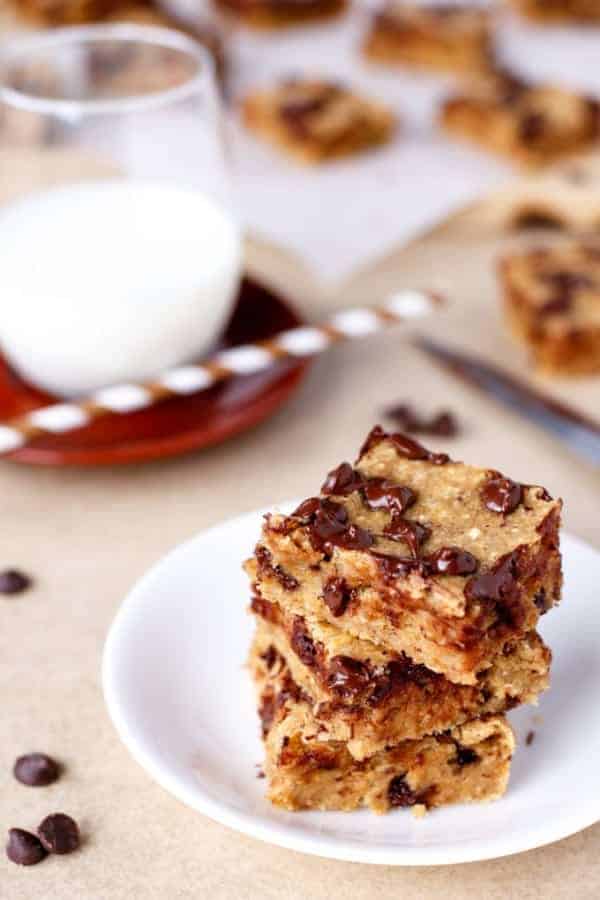 Sing it with me now… The wholllle club looking at yoooou with your banana bread blondiessss…..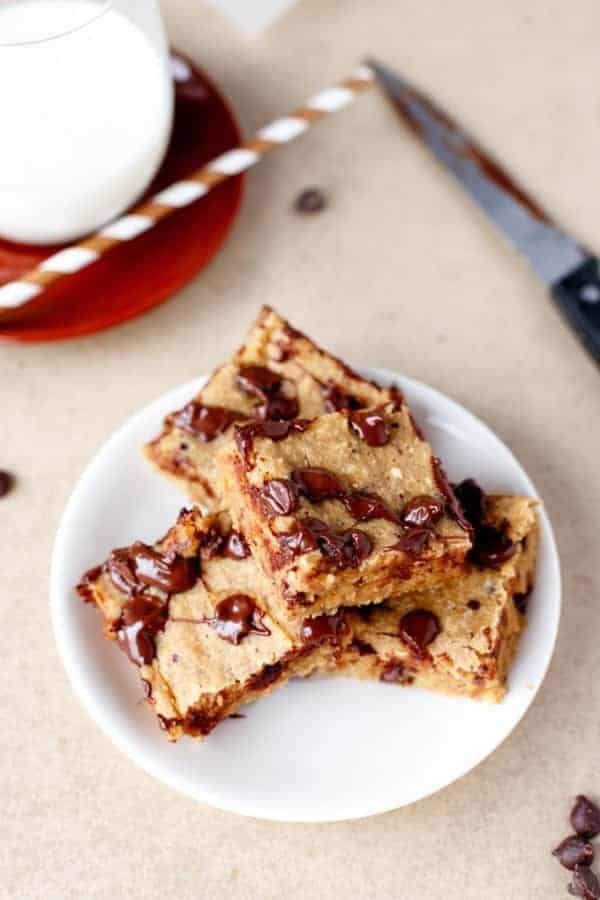 Can you feel it? Do you feel me?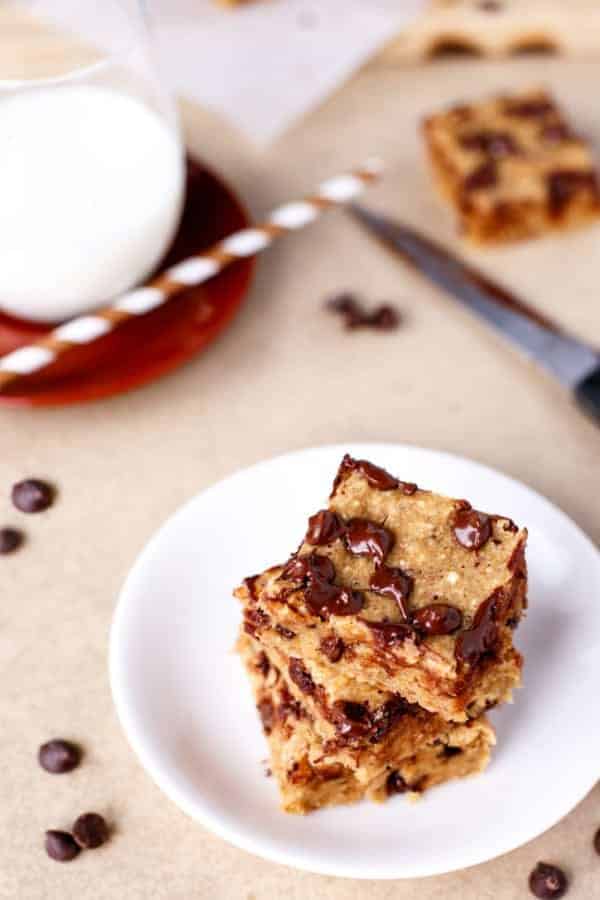 No? Ok. Just look at the gooey mess of the chocolate and allow your drool to take place. It's ok. It's just me and you here, sharing a moment.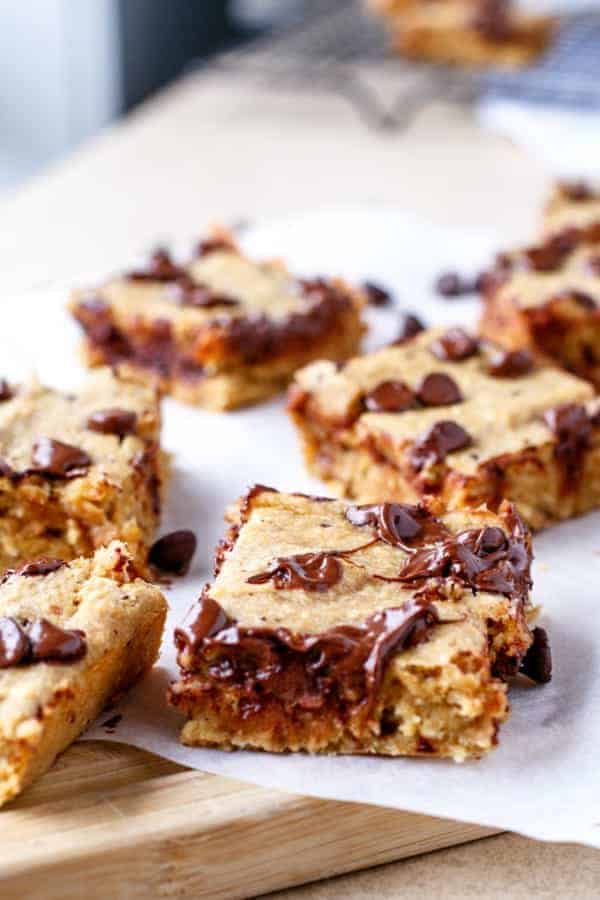 A deliciously sexy Banana Bread Blondie Moment.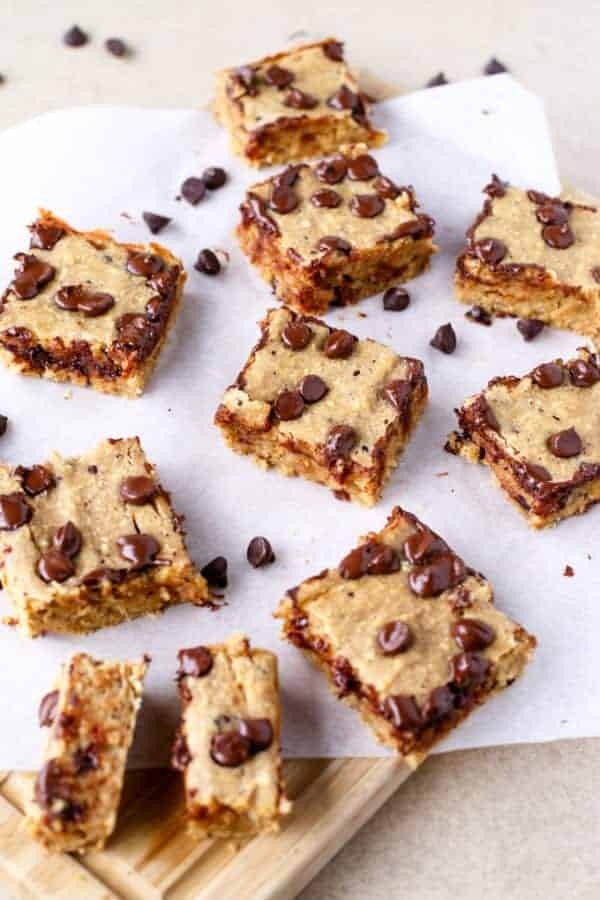 Sooooo a major tip here: Washing your chickpeas thoroughly is the trick to these. I place them in a strainer in the sink and wash them under cold running water for a good minute or two, until they're as clean as a babies bum. A clean baby.
Process the chickpeas first with the oats and the milk and the bananas. This helps your processor deal with the fudg-y-ness thats's going on in there, before adding the rest. Some readers have used blenders and magic bullets as well with success. Some have even resorted to mashing everything with a fork? Well, the result is lumpier, but they've been ever-so-happy.
Just keep in mind that the fudgier they are coming out of the oven, the better they are. They should be firm when touched on the top, but they will be gooey inside. That's normal. Take 'em out after 20 – 30 minutes, and no more than that (unless your oven is extremely slowwwwwwww). Once they've cooled down for about 10 – 15 minutes, they will start to set and become the best tasting blondies you've ever had in your life – with the word healthy in front.
Ok. I'm gonna stop talking now. If you guys make these, please let me know your thinking!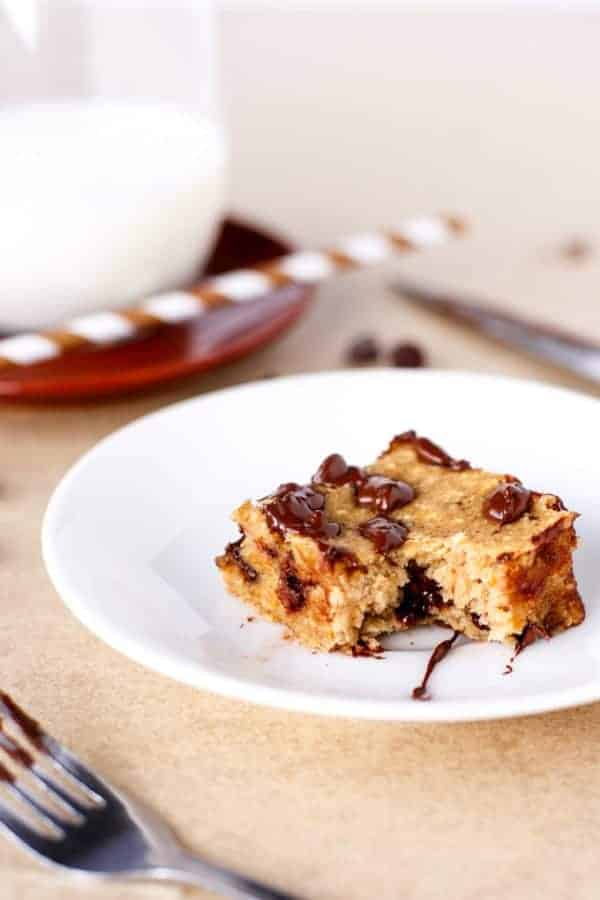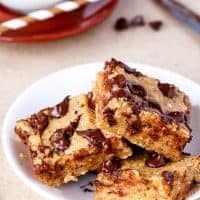 Banana Bread Chocolate Chip Blondies
Super moist and so fudgy banana blondies, sweetened with just the perfect amount of honey and full of chocolate chips. And...so healthy no one will ever guess the chickpeas in them! A perfect little trick and treat for little ones and family members to eat healthy.
Weight Watchers: 3pp per bar
PRINT
SAVE
go to your favorites
Ingredients
2

ripe medium/large bananas

1 3/4

cups

rolled oats

1

x 400g |15oz can chick peas

(1 1/2 cups, thoroughly washed, drained and rinsed)

1/2

cup

unsweetened almond milk

2

tablespoons

Peanut Butter

(I used Peanut Butter & Co. The Bees Knees)

1/2

tablespoon

baking powder

4

tablespoons

honey

4

tablespoons

sugar

(I used Raw Sugar or Turbinado)

A pinch of salt

1/3

cup

dark/semi sweet chocolate chips
Instructions
Preheat oven 200C | 390F. Spray a 9x9-inch OR 8x11-inch baking pan with cooking spray, wipe excess over with a paper towel and set aside.

Combine bananas, oats, chickpeas and milk into a food processor and blend until smooth (for about 3 - 4 minutes). Add the peanut butter, baking powder, honey, sugar and salt and blend again for a further 2 minutes. Scrape the sides of your processor to make sure all ingredients are being processed, and add half the chocolate chips into the batter. Process again for a further minute or two, until all ingredients have blended together and the batter is thick and creamy.

Pour batter into prepared pan and top with remaining chocolate chips. Bake for approx 20 - 25 minutes (depending on your oven) until a toothpick inserted into the centre comes out clean. They should be firm to the touch, but they will still be quite soft on the inside and still quite moist when taken out. They will set and firm as they cool. Don't over cook these - or they will become dry.

Once cooled, gently cut into 16 bars.
Notes
When washing chickpeas, I always use a strainer and wash them under cold running water for a good minute, before draining them from any excess water and adding them into the food processor.
Storage:
These are best eaten on the same day of baking and the following day. They last about 3 - 4 days in an airtight container, or on a plate covered with cling/plastic wrap. They can be refrigerated for about a week, and frozen for up to 6 months. Simply thaw at room temperature and reheat in your microwave or oven if you like them warm and gooey.
© CAFE DELITES. All images & content are copyright protected. Please do not use my images without prior permission. If you want to republish this recipe, please re-write the recipe in your own words and link back to this post for the recipe. Thank you
Nutrition
Serving:
1
g
|
Calories:
152
kcal
|
Carbohydrates:
21.2
g
|
Protein:
4.6
g
|
Fat:
3.2
g
|
Fiber:
2.7
g