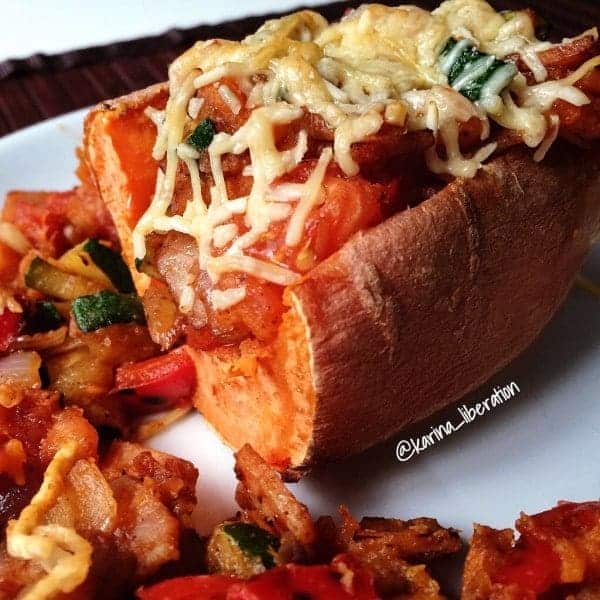 Bacon & Vegetable Stuffed Sweet Potato with Parmesan Cheese
This is a Single Serve Recipe
315 calories
Weight Watchers: 6 ProPoints | PointsPlus
Recipe:
1 medium sized sweet potato, washed and scrubbed
1/2 red onion, diced
1/2 red capsicum/bell pepper, diced
1-2 zucchini/courgette, cubed
2 slices lean shortcut bacon, diced
1 ripe tomato, diced
1/2 teaspoon garlic powder
1 teaspoon vegetable stock powder (Vegeta)
2 tablespoons (15g) grated Parmesan cheese
Using a fork, pierce potato all around the skins surface.
For oven baked: Preheat oven to 200C | 400F. Place sweet potato on a baking tray lined with parchment paper and bake until soft (approx 45 minutes – 1 hour)
OR
For microwave baked: Wrap in a paper towel while sweet potato is still damp from being washed. Microwave for 4 – 5 minutes or until cooked through.
While sweet potatoes are baking, coat a nonstick frying pan/skillet with cooking oil spray. Pan fry onion, capsicum/bell pepper and zucchini/courgette until onion is translucent. Add bacon and fry until golden. Add tomato and lower heat.
Season with garlic powder, vegetable stock powder, and salt to taste. Remove from heat.
Once sweet potatoes are cooked, slice the top of the sweet potato open and scoop out half of the filling. Add the sweet potato filling to the bacon mix until combined, and spoon stuffing back into the potato.