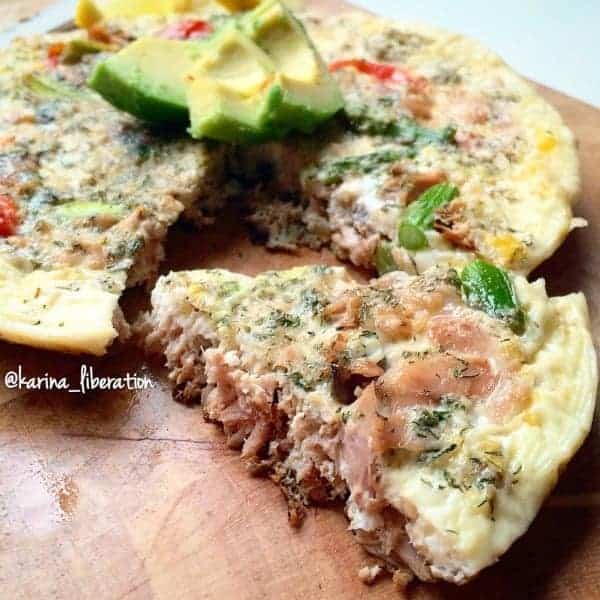 Asparagus Tomato and Onion Tuna Frittata with Avocado Slices
This was SO GOOD!! And perfect for ANY TIME of day!
244 calories for this entire serve!
Weight Watchers 6pp!
1/4 red onion, chopped finely
3 asparagus spears, trimmed and sliced
3 cherry tomatoes, sliced thinly
95g small tin tuna flakes in springwater, drained
1 eggs,
1/2 cup liquid egg whites
Salt to season
Pepper to season
Dried dill leaf tips
1/4 of an avocado, sliced
Lemon wedges to serve
Preheat oven to grill/broil settings on low – medium heat.
Pan fry onion and asparagus in a small – medium sized oven proof non stick frying pan. Add the tomatoes and tuna, lightly frying until the tomatoes have slightly softened.
Whisk the egg and egg whites together with salt, pepper and dill and pour the egg mixture into the pan. Reduce the heat to low.
Cook for 2-3 minutes or until the base is golden and set.
Remove from heat and place under the preheated grill.
Cook for a further 1-2 minutes or until golden and frittata is set. Remove from heat.
Serve immediately with avocado slices and lemon wedges.